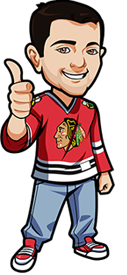 Written by Scott on Sunday, November 9th, 2014
Follow @BetNHL
Great night of tips last night as we went 2-1. Not sure what happened to the Canucks though as it seems their offense from the last little while was no where to be found.
Had the Lightning to win in regulation for 2.00 odds and they did with ease beating the Blue Jackets 7-4. When you can put 7 goals on the board and only get 1 assist from Stamkos in the process then you know that this team is dangerously deep and is going to continue to do damage all year.
We had the Hurricanes vs Capitals game to go over 5.5 which it did when the Caps won 4-3 in OT.
And as mentioned our loss came from the Canucks getting beat 5-1 by the Kings.
Other news from last night: Bill Cosby Sidney Crosby had a HUGE game picking up 5 assists in the Pens 6-1 win over the Sabres, the Stars continue to struggle losing their 7th straight game to the Sharks 5-3 and the Leafs scored two straight in the 3rd to beat the Rangers 5-4.
Another solid day of NHL action with 5 games scheduled. Battle of Ontario as the Sens play host to the Leafs, Canucks vs Ducks should be a high scoring game and the Lightning vs Red Wings in a battle of two teams at the top of the Atlantic Division.
Let's keep the streak going with the NHL Betting Tips for Sunday November 9th.
Lightning vs Red Wings Betting Tips
The Lightning are on fire right now. They are on a 5 game win streak and hammered the Jackets last night 7-4.
As usual, the Wings are solid. They never seem to show signs of age even though most of their better players are comfortably north of 30
It's hard to bet against Tampa Bay right now. They have momentum on their side are are scoring at will.
Great odds for a Lightning Win For 2.10 so let's take them at Sports Interaction (Exclusive: $20 Free Bet for Canadians) or for Americans try out Bovada and everyone else Bet365.com.
Leafs vs Senators Betting Tips
Any time these two teams meet up, you can throw the standings and how well they have done out the window. Both teams always show up for these games.
Lots of history here and when it's the battle of a Provence their is more on the line then just the 2 points.
The Sens have played far better then expected this year. The Leafs have played far worse then expected. These teams are close in both points and records.
But the Leafs are the better team now and will be at the end of the year. I think they come with the win in his one
Another set of great odds in this one. 2.10 for a Maple Leafs Win
Value Bet: Oilers Win
This is a tough call here. The Oilers have been up and down all year and now without Taylor Hall it's going to be even harder for them to pick up wins.
But the Rangers are still without defenseman Ryan McDonagh and Dan Boyle so if the young Oilers are to beat them then tonight is the night.
Awesome value here of 2.65 for the Oilers win and they have a decent shot of coming away with the Win in this one.
If you haven't already then place your free bet on an Oilers Win for 2.65 at Sports Interaction (Exclusive: $20 Free Bet for Canadians) or for Americans try out Bovada and everyone else Bet365.com.
Follow @BetNHL
BetNHL.ca » Tonights Tips »