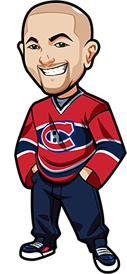 Written by Graeme on Friday, October 10th, 2014
Follow @BetNHL
We went 2-1 yesterday with two big road underdog wins which was nice.
Our one loss was with the Lightning. We predicted they would win and they did just that. Unfortunately it was in overtime, not regulation time. However it looks like they are a team that need time to settle. All 3 goals were on power plays and it's rather concerning that they couldn't score, or get as many chances, 5 on 5.
We won with the Calgary Flames. They were 2.30 and defeated the Oilers 5-2 on the road which was a massive win for them. Oilers look to have the same troubles as last year – 5 on 5, they just don't stand a chance. You do have to wonder how much opening day.nerves affected the young team – but it's sad to see them pull back a 2 goal deficit – then lose. I watched that happen countless times with the Oilers last year.
Still better than last years opening day where they blew a 4-2 lead at home to the Jets.
Our other win was the Winnipeg Jets. They were also a decent underdog at 2.20 odds, but they absolutely destroyed the Coyotes 6-2. That's what the Coyotes get for bringing in Michael freaking Buffer. Man I hate that guy, and I like to think that was karma punishing them for giving that man money.
After a busy schedule last night, we've got just one game tonight which is the Islanders vs The Hurricanes.
We have no betting tips for that game tonight. However I will provide some analysis for you in just a second.
With only one game however, this is the perfect day to spend some time getting to know FanDuel Daily Fantasy Sports.
In a nutshell – "daily fantasy sports" is fantasy sports that takes place over one day. So you would pick players from the games last night for example – and then you win points based on how they played last night. Then that's it – the people who cash get their money.
We had a lot of fun with that last year, and we're going to be playing it again and writing about it this year too. There's a ton of freerolls, $1 entries, $2 entries etc to help you out when just learning how to play, and we made a decent amount of cash there.
So yeah go check out FanDuel.
Okay – so tonight Hurricanes vs Islanders. Like we said – no official betting tips unfortunately. This is a tricky one. Instead we'll discuss both sides and give our opinion:
Islanders 1.83: It's the start of a new NHL season, so of course that ugly word is being thrown around whenever people talk about the Islanders: "potential". A lot of changes during the offseason and Tavares is back too. Going into this, the Islanders look very tempting with their road record.
Hurricanes 2.00: Not too many changes for the Hurricanes, but losing Staal is big of course. They've also got the infamous goalie situation, with two goalies neither of whom is their #1. Sometimes this works great, often it is a disaster. The major changes at the Hurricanes were behind the scenes, with a new GM & Coach.
On the surface, Islanders seem like the better pick. But we think it's best to sit back and watch them first. It's too easy to get caught up with the thoughts about their "potential". If the odds were favourable then for sure we'd bet them – but they're going into this one as pretty decent favourites and we don't think it's a good price.
If you must bet – go with a team in regulation. Islanders are 2.30 and Hurricanes 2.65 in regulation. Either of those has value.
Follow @BetNHL
BetNHL.ca » Tonights Tips »