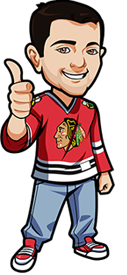 Written by Scott on Saturday, October 18th, 2014
Follow @BetNHL
Well we went from a high scoring night on Thursday, to a low scoring night last night but even without the goals it was still an awesome night of NHL action with some records being broken.
First off the Florida Panthers beat the Buffalo Sabres 1-0. And with the shutout Roberto Luongo passes Patrick Roy on the all time shutouts list with the 67th of his career. Anytime you can better any of Roy's stats is outstanding. Luongo still has a LONG way to go though to catch the all time leader Marty Brodeur who has 124.
The Minnesota Wilds Darcy Kuemper set the Wild franchise record for minutes played without a goal at 160 minutes. The Wild went 2 games and 2 periods without having a goal scored against them. But they lost 2-1 to the Ducks.
Henrik Zetterberg picked up 4 helpers as the Detroit Red Wings won 4-1 over the Toronto Maple Leafs in part one of the home and home weekend series. And for the 2nd time this season in Toronto, a Leafs fan threw their jersey onto the ice in disgust. Wow it's going to be a long year for some people.
So even without a lot of goals going up, there was still plenty to keep us happy.
Tonight we have an awesome night of hockey to enjoy with 11 games taking place. A couple big ones to keep an eye on: Islanders vs Penguins with the Isles having a chance to start the season 5-0 for the first time ever, Bruins vs Sabres where there is always a chance for some fireworks thanks to Lucic and his history against the Sabres and Preds vs Blackhawks where the number 1 & 2 teams so far in the central face off with both teams yet to lose in regulation.
But no matter which game or games you watch you won't be disappointed. Ok let's get back to winning with tonight's tips
Maple Leafs vs Red Wings Betting Tips
Even through the season is still so young the Leafs have managed to be an up and down team already.
This is the 2nd half of the home and home series with this game taking place in Detroit.
The Leafs will go with James Reimer in goal who has both of the Maple Leaf wins so far this year.
You have to like the Leafs chances in this one for a bounce back game. And with the odds that we are getting for this it really is a no brainer.
Let's go with the Maple Leafs to Win for some great odds of 2.35 at Sports Interaction (Exclusive: $20 Free Bet for Canadians) or for Americans try out Bovada and everyone else Bet365.com.
Islanders vs Penguins Betting Tips
This may end up being the game of the night and the weekend.
The Isles are off to an amazing start and look like a team that's is finally ready to do damage over a full season.
The Pens on the other hand are, well, the Pens. You can never count this team out. And with news coming out that after being struck in the back of the head with a shot Pittsburgh forward Pascal Dupuis has been medically cleared to play this is only going to be a morale boost for an already strong team.
I love seeing records get broken, who doesn't, and with a win the Isles would start a season 5-0 for the first time in franchise history but they will have their work cut out for them.
New York has been scoring with ease so far this season and have put up 5, 4, 6 & 4 goals in their first 4 games. Pittsburgh has put up 6, 5 & 2 in their first 3. This has the potential to end up in the 10+ goals range
Bet the Islanders vs Penguins game Over 5.5 for 1.76 odds at Sports Interaction (Exclusive: $20 Free Bet for Canadians) or for Americans try out Bovada and everyone else Bet365.com.
Lightning vs Canucks Betting Tips
The Canucks are coming off of a 2-0 win last night over the Oilers. The Lightning haven't played since Tuesday where they lost 2-1 to the New Jersey Devils.
Miller picked up his first shutout of the season and as a Canuck so he's going to be flying high. The Canucks have looked amazing so far this year and Vrbata and the Twins have looked awesome together.
But the Lighting are no pushovers. The are coming into this game after 3 days off and looking to get back into the win column. The can score as evidence of their 7-1 pounding the handed Montreal.
This game could go either way but you have to like rested Lightning to come out on top in this one. Sure Miller is riding a shutout but all good things come to an end.
Bet the Tampa Bay Lightning to win for 2.05 at Sports Interaction (Exclusive: $20 Free Bet for Canadians) or for Americans try out Bovada and everyone else Bet365.com.
Follow @BetNHL
BetNHL.ca » Tonights Tips »