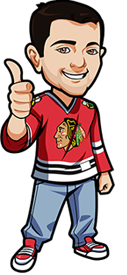 Written by Scott on Tuesday, October 21st, 2014
Follow @BetNHL
The Edmonton Oilers are finally in the win column!!
That's great for them but tough for us as it cost us one of our bets. We did manage to go 1-1 last night so it could have been worse. Our win came thanks to the Lightning getting on board first.
As mentioned, the Lightning opened the scoring early in the 2nd but the Oilers responded with 2 of their own. They traded goals in the 3rd period and Edmonton won 3-2 for their first win of the season.
What a difference for us tonight with the NHL action. We go from having 1 game on to 10 tonight. Some good games taking place too. Leafs vs Islanders, Flyers vs Hawks, Sharks vs Bruins and Wings vs Habs are just some of them.
Ok let's get to the NHL Tips for October 21st
Rangers vs Devils Betting Tips
These are always great games to watch thanks to the teams being so close to one another
The Rangers may be without two of their top 4 defenseman. Dan Boyle is on injured reserve with a broken hand and Dan Girardi is day to day with a foot injury.
The Devils are relatively healthy with the exception of Martin Havlat who suffered a rough looking, bloody injury. It appears as though Havlat's injures won't keep him off the ice for long, if at all.
But even without two of their D, the Rangers still have a more than capable 6 D to go into this game with.
And with the odds for a Rangers win we have to take them in this game
Rangers To Win for 2.10 betting odds Sports Interaction (Exclusive: $20 Free Bet for Canadians) or for Americans try out Bovada and everyone else Bet365.com.
Red Wings vs Canadiens Betting Tips
Any time a couple of original 6 teams play each other it's a great game. So much history.
The Wings opened the season with a win over the Bruins, lost their next two games against the Ducks & then the Bruins and then won both games of their home and home series games against the Leafs.
The Canadiens have been cruising along so far. They are 5-1 with some big wins over the Avs, Bruins, Flyers and Caps. But their one loss was an ass kicking at the hands of the Lightning 7-1.
Half of the Red wings games have hit 5 goals where all but one of the Habs games have stayed under 5.
With all of the history between these teams I expect a great game in this one. If I was betting on a winner then I would go with Montreal.
Go to Sports Interaction (Exclusive: $20 Free Bet for Canadians) or for Americans try out Bovada and everyone else Bet365.com. and bet the Wings vs Habs game Over 5 for 1.80 odds
Canucks vs Stars Betting Tips
Vancouver has a good record up to this point but looks can be deceiving. Sure they currently sit at 3-1 but their 3 wins came against the Flames and 2 against the Oilers. When the welcomed the Tampa Bay Lightning into town they took their first loss 4-2.
The Stars have faced some much tougher competition so far having played the: Hawks, Preds, Jackets, Penguins and Flyers. Yet even while facing all of those teams they still sit at a respectable 2-1-2.
So the Stars have shown they can hang with the strong teams in the league while the Canucks can beat up on the weaker Western Canada teams but lose to a stronger team.
I like the home team Stars to come out on top in this one
Bet the Dallas Stars To Win at Sports Interaction (Exclusive: $20 Free Bet for Canadians) or for Americans try out Bovada and everyone else Bet365.com. and get in on free money before its gone
Follow @BetNHL
BetNHL.ca » Tonights Tips »