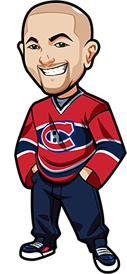 Written by Graeme on Wednesday, October 29th, 2014
Follow @BetNHL
Before we get into the tips today – I wanted to introduce a new feature at BetNHL.ca that I'm hoping will become a regular feature.
You're always getting our perspective on the tips – but have you ever wondered how the bookies feel? Or ever wondered what action the bookies are seeing?
While setting up the free bet with Sports Interaction, we were chatting to them about that. Finding out where the future action was going and so on – and we found it really interesting.
After the first couple of weeks of the NHL season, we approached Sports Interaction about sitting down and chatting with them about the betting action they are taking – and then sharing it with you guys. They were very open to that, and with only two games tonight we thought it'd be the perfect time to share this.
If you like this please let us know – we'd love to make it a regular monthly or bi-weekly feature as we can't get enough of hearing how things go from the bookies side of things.
And thanks to Sports Interaction for agreeing to do this. Tips are below all of this.
Who got the most action pre-season to win the Stanley Cup?
The teams taking the most action this season to win the Stanley Cup are the LA Kings, Anaheim Ducks and the Montreal Canadiens.
One big shock this season is that the Leafs are not getting anywhere near the action they usually get. It's taken awhile but it looks like Leafs fans have finally learned their lesson. Of course if the Leafs pick up a good winning streak we expect the money to roll in on them.
With such a big Canadian audience, are you seeing more action on the Canadian NHL teams when they play as opposed to the American NHL teams?
Easily. On any given night, games featuring Canadian teams will see 4x the betting action compared to a game featuring two American teams.
Night by night, what Canadian teams are getting the most NHL action and what teams are getting the least?
Just like every year, the Toronto Maple Leafs are the team that get the most betting action. The Canadiens are close to them though, and then behind them is the Canucks. The other teams usually only see more action when it comes to nationally televised games.
Any massive winners for the sportsbook lately?
Yes. Tampa Bay Lightning vs the Edmonton Oilers. As you can imagine – Oilers went into it still seeking a win, and Tampa have been pretty good. Everyone was expecting Lightning to win and Oilers squeaked out the win, which was a great day for us.
At times the odds don't make it worth betting the money line with a lot of matchups featuring heavily favoured teams. What are most people betting?
It's very common for us to take action on the high profile clubs at the -1.5 handicap when against "weaker" teams. This is more because bettors quite simply want to bet on the best teams – and odds wise, that's usually the bet that makes sense to them. Obviously a lot of them aren't coming in at the moment – but that's just a small sample size.
One awesome thing that Sports Interaction offers is player props. Obviously people are going to be betting the likes of Crosby, Stamkos and Ovechkin. Any other players who take a lot of action?
We're seeing constant bets on Corey Perry, Ryan Getzlaf and John Tavarez as "anytime goalscorers" during games. Interestingly not a lot of people bet on Perry in our popular "Race to 10 goals" prop even though he was at a healthy +470 odds. It looks like it's between him and Nash for that one. Nash was +2500, and thankfully we didn't see much action on Nash either so bar a disaster, it's a win-win situation for us.
Thank you so very much Sports Interaction. If you guys liked this, please let us know as we'd love to do more of this later in the season. And if you have any questions you'd like to ask the bookies let us know. Now let's get on with the tips for tonight.
Predators vs Oilers: I wanted to write here "Oilers are the favourites here for the first time this season". But yeah – they're not. They're dogs. And we love that. Oilers have won 4 in a row, all at home – including beating the Habs, Capitals and Lightning. Predators have also been solid so far, but going on the road for only the 3rd time against an Oilers team playing with confidence – we just have to bet the Oilers here. Oilers to win, 2.00 odds.
Wings vs Capitals: Quite the tough matchup to call. Wings have been all over the place, and 50% of their games have went to OT. Capitals are similar with 3 of their 8 games going to OT. All 3 of those games were at home. Think we have to go with a value bet there – this game to go to overtime at 3.50 odds. You can place that bet at Sports Interaction (Exclusive: $20 Free Bet for Canadians) or for Americans try out Bovada and everyone else Bet365.com..
Follow @BetNHL
BetNHL.ca » Tonights Tips »