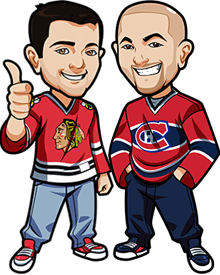 Written by Graeme & Scott on Tuesday, October 7th, 2014
Follow @BetNHL
It's finally here – the NHL season is BACK!
Man did the last couple of months drag or what? But thankfully it's back and in business with some huge games tonight. It all kicks off with the Habs vs Leafs in what will no doubt be a great game, and a heated affair. I mean come on it's in Toronto and the Leafs fans don't have their playoff hopes dashed yet! You'll be able to smell a rare thing on the streets of Toronto today – optimism.
In case you missed it – we wrote this article and this article on pre-season prop bets. There is a TON Of value in those and we highly recommend getting on them. Lot better than a savings account!
If you're new here – here's the deal. We've been posting our tips public for 2 seasons now. We're up over 60 units over those two seasons. All our tips are free, and you can keep updated via Twitter and Facebook(links on the right), as well as subscribe via e-mail (also at the right and below this post).
Oh and if you have any questions at all about tips, hockey, online betting – anything at all just fire us an e-mail at betnhl.ca@gmail.com. Graeme is the Habs fan, Scott is the Hawks fan and we get together every day for an hour long discussion over breakfast about what tips to do that day.
We've got a winning record but seriously – don't take our tips as gospel. Try and form your own opinions too. We're going to win. We're going to lose. It happens. Use us to assist you in bets, and understand there's going to be upswings and there's going to be downswings(I'm absolutely crapping it about an 0-4 start!).
Finally, do yourselves a favour, take a few minutes and get yourself accounts at the following sportsbooks or at least ONE of them:
Americans: Bovada, 5Dimes, Carbon Sports.
Canadians: Sports Interaction, [geocode id=5, Bet365.
UK: Sports Interaction, Bet365, 888.
Everyone Else: Bet365, 888, and try Sports Interaction although they have a ton of country restrictions.
There are a ton of reasons for that. One is the above books are all awesome, have good odds and sometimes the best, have a signup bonus and mobile betting and live betting. All highly recommended and trustworthy.
On top of that, we don't do just money lines and over/unders. We do prop bet tips, we do highest scoring period, goal before 9:30 and a wide variety of other tips – some of which you will only find at the books above.
So get that out of the way now – take 10 minutes and register at all the above sites so that for the rest of the season you can just log into your betting account and bet when we send out tips – no need to waste time registering.
Also be sure to check out FanDuel Daily Fantasy Sports. It's a blast and we may run some private tournaments there in the future.
Whew – okay, PSA over. Let's get to the NHL Betting Tips for October 8th, 2014:
Canadiens vs Leafs Betting Tips:
This one doesn't require too much analysis. When these two teams play, they tend to score a lot of goals against each other. Results last season saw 7 goals, 7 goals, 8 goals, 6 goals and 7 goals.
We are going with Over 5.5 goals at 2.05 odds.
Flyers vs Bruins Betting Tips:
The Bruins dominated the Flyers last season, beating them 3-0 in games.
There's a couple of key injuries going into this game. Krejci is out for the Bruins which is big, and Wayne Simmonds may not be able to play for the Flyers. They could probably risk him – but against a physical Bruins team? Not something we would recommend.
We like the Bruins here, especially at home. The odds aren't worth betting the money line as they are 1.55. We're going with Bruins to win, with the handicap. It's a risky bet at 2.65 odds – Bruins -1.5 but we feel there is value there.
DON'T FORGET: TAKE ADVANTAGE OF THE $20 GUARANTEED WINNING BET AT SPORTS INTERACTION. IT EXPIRES OCTOBER 31ST AND OPENING NIGHT IS A GREAT TIME TO DO IT.
Canucks vs Flames Betting Tips:
You have to think the Canucks will come out flying, hoping to put last season behind them fast.
We must admit we're very excited at seeing the Canucks this year. We hate them like everyone else, but the Vrbrata & Sedins line could be poetry in motion if they connect well.
Flames are still in rebuilding mode. It's tricky – Flames are a team that always have the possibility of the upset, but we feel their odds are too short at 2.00 while the Canucks line is still good at 1.83. Canucks have a great history over the Flames and have dominated them the last couple of seasons – even last season.
Take the Canucks to win. 1.83 odds.
Sharks vs Kings Betting Tips:
These two teams had that bizarre series last year in the playoffs. Just a crazy series that ended with the Kings winning after being down 3-0 and of course they went on to win the cup.
This is a very tricky game but I feel we are JUST getting value on Under 5.5 at 1.71 odds. Honestly it's the type of game that a few games in, the line would be set at 5 goals. Two top goalies here and hopefully Quicks surgery is not an issue.
Kings to win is 1.71 as well – but we think if Kings DO win then it's going to be Under 5.5 goals and with Quick letting in 0-1 goals; so based on that, it makes sense to do the under.
Finally:
Seriously – sign up at at least ONE of these books will ya? You're going to get like $50-$200 in free bets, so take 5 minutes and go with one of them:
Americans: Bovada, 5Dimes, Carbon Sports.
Canadians: Sports Interaction, [geocode id=5, Bet365.
UK: Sports Interaction, Bet365, 888.
Everyone Else: Bet365, 888, and try Sports Interaction although they have a ton of country restrictions.
Have a great night guys.
Follow @BetNHL
BetNHL.ca » Tonights Tips » NHL Betting Tips for October 8th 2014 – IT'S BACK!