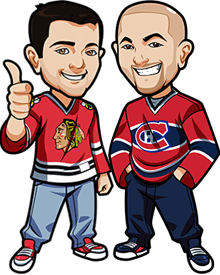 Written by Graeme & Scott on Friday, May 16th, 2014
Follow @BetNHL
And then there were four.
We coined the Ducks-Kings series as the "series from bizarroland" yesterday and yeah – we got that. What a crazy game that was. Even better though was we had two massive wins yesterday. We tipped Goal Before 9:30 and cashed that in at 1.83 odds. The big one though was Kings in regulation at 2.75 odds.
A fantastic way to end that round.
Today we're going to discuss the Habs vs Rangers series, and then we will do another post late Saturday night to go over the Blackhawks-Kings series.
Rangers vs Canadiens Betting Tips:
[b]Graeme:[/b] Well as a Habs fan you'd expect me to be biased and I am – but not in the way you'd think.
I'm Scottish, and that makes me a born pessimist. I've learned never to get my hopes up. Oh so many European Championships and World Cups where my dreams were shattered. So while all my friends, even Leafs fans, are going on about how the Habs will dominate the Rangers, and even as I sit here watching the Habs betting odds drop from 1.9 to 1.83 as the betting public push on them – I just can't bring myself to believe.
Attempting to put emotions aside however, I have to go with the Habs.
Montreal have done an amazing job in getting this far. They absolutely DESTROYED the Lightning, and they eliminated the favourites to win the Stanley Cup, the Boston Bruins. Even moreso – they did that in Game 7, in Boston, in hostile territory.
Did the Habs get lucky? Sometimes sure – but they are still here on their own merit. They have a goalie who is putting in A+ performances, and at least 3 games in the series they dominated Boston. When the Habs are on, and they have been on a lot – they are amazing. The Rangers meanwhile have had both series go to Game 7. They struggled hard against Philly and were lucky to win. They beat Pittsburgh and you have to credit them for sure – but there was something up with the Penguins this year. Pitt went 7 games against the Blue Jackets. I don't think beating them gets the respect as it would've a year or so ago.
So with that, I am going with:
Habs to win the Series: 1.83 odds
Bet that at http://www.carbonsports.ag.
Scott: If you are looking for a goal packed series, you'll have to look elsewhere. This is going to be a tight series with very few goals. I'll be betting under on the first game and the others for sure. The Habs won the season series 2-1 and during those 3 games they combined to score only 4 goals. Habs won the first game 2-0, Rangers the second 1-0 then the Habs took game 3 1-0. Both goalies are amazing and playing a rematch of the gold medal game when Price and team Canada beat Lundqvist and team Sweden.
Both of these teams are coming of a long and tiring 7 game battle so fatigue is going to show. Also these teams both beat out some powerhouse teams last round with the edge going to the Habs for slaying the Bruins but you can't discount the fact the Rangers stormed back from being down 3-1 to win their series against the Penguins.
This is so tough to predict. It's going to be a long series around six games but the winner will be The Habs. Home ice advantage will pay off for them in front of the rapid fans at the Bell Centre where they are 4-1 in the playoffs.
Habs to win the Series: 1.83 odds
Bet that at http://www.Bovada.lv for Americans and http://www.Bodog.eu for everyone else..
Follow @BetNHL
BetNHL.ca » Tonights Tips »