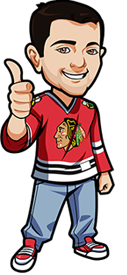 Written by Scott on Monday, May 19th, 2014
Follow @BetNHL
It's Victoria Day here in Canada and what that means is it's another excuse from Graeme and I to get the family's together for fireworks, campfires and fun. While the kids play Graeme and I will man the BBQ and drink beer talking hockey.
Huge win by the Hawks last night. They won 3-1 to take the first game and a 1-0 series lead heading into game 2 which is also in Chicago where they haven't lost in these playoffs. It's about time Corey Crawford starts getting the respect he deserves after yet another strong game.
Ok onto today's action.
Rangers vs Habs: Over 5
Before this series started I liked each game to stay under due to their regular season series and the fact that both goalies are amazing. But things have now changed. Not only did the Rangers put up 7 goals last game but for Habs fans the worst possible news has came out.
Canadiens all world goalie Carey Price will miss the remainder of the Eastern Conference finals. If this is true then this is a huge blow to the Habs and is going to greatly affect the outcome of the series.
I'm convinced this is just the media overblowing things. I mean look at yesterday – Ovechkin got injured during the game. From all accounts it's not bad – he's not on crutches, and he might miss just one game. However that didn't stop the media from going balls to the walls in terms of speculation. Headlines I saw included "Ovechkin done for tournament", "Possible ligament damage", "Oh my god it looks like his knee and it looks terrible", "Ovechkin can't walk", "It's pretty bad". And so on and so forth.
I'm hoping the "Price injury" is similar. What a story that is for the media – Price has been the man to get the Habs thus far and they'd love him to be injured – not because they hate the Habs, but because that's the sort of story that sells papers.
I think Over 5 is worth it with 2.05 odds. Habs got to score twice against the Rangers, and IF Price is injured – hell, even if he isn't – Rangers still got 7 past the Habs and 4 past Price.
You never know though maybe this will set the Habs on fire and even if Price is gone they rally together and come out on top.
$25 risk free bets on player prop, in-game bet and $50 risk free mobile bet. Available for NEW customers only at BetOnline.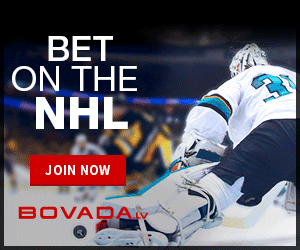 Follow @BetNHL
BetNHL.ca » Tonights Tips »