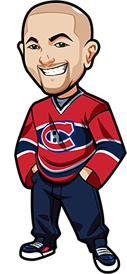 Written by Graeme on Wednesday, May 21st, 2014
Follow @BetNHL
Sports are depressing me lately.
I mean you know the most obvious one – Carey Price. His injury is just gutting, for so many reasons. It sucks so hard for him because he's did an insane job to get the Habs here – and now it looks like he's missing out for the whole series against the Rangers. It's always disappointing when the best players don't get to participate. It's always interesting to see how a team responds when something like that happens though. Unfortunately the Habs don't look to be responding the way I was hoping – Game 2 was just ripe with defensive errors, as you can tell they've lost confidence now they don't have Price backing them.
Then there's the NBA. I love the NBA and I've been running my own NBA Tips site for about 6 years now. This year I was so psyched for the playoffs as there is so much competition there. My interest disappeared in Game 5 of the Clippers vs Thunder series when the referees handed the Thunder series the game in one of the most blatant and horrible set of refereeing decisions in a long time. What's worse about that is yeah – referees make mistakes – but you always have the Sterling situation hanging over that and you have to wonder just how much of it was mistakes and how much of it was deliberate.
Bring on the World Cup, I say! Or hell, have Rangers go up 3-0 and then Habs tie it up to 3-3. Me and Scott have tickets for Game 7 if there is one – and all I can say is holy moley. I'm already sitting here dreaming of a comeback from 3-0 down, tieing it up, then Price coming back for the Game 7. Make it happen!
Speaking of soccer – if you're looking forward to the Champions League Final, be sure to head on over to http://www.B365.com.
Today, May 21st 2014 we have Game 2 of the Chicago Blackhawks vs LA Kings Series. Chicago won 3-1 in Game 1. But you can't count the Kings out – we've learned that in both series already this year that they've participated in.
Let's look at the game, and the betting options available to us:
Chicago Blackhawks vs LA Kings Betting Tips:
Betting Odds:
Blackhawks To Win: 1.64 Odds
Kings to Win: 2.35 Odds
Over 5 Goals: 2.10 Odds
Under 5 Goals: 1.76 Odds
Odds taken from http://www.carbonsports.ag
Game 1 was an interesting one. Kings put a lot of pressure on the Hawks with a lot of shots – but the Blackhawks showed it was quality over quantity and offensively looked very good and confident.
LA are going to start this game strong. They're going to continue the pressure on Crawford, and start hammering the net – something the Hawks react well to. Based on that, I'd recommend betting Goal Before 9:30 over at http://www.Bovada.lv for Americans and http://www.Bodog.eu for everyone else.. 1.80 odds for that one which I think is an okay price.
I like the Blackhawks to take this game – but 1.64 odds aren't enough. I'd go with Blackhawks to Win In Regulation. When you do that, you're getting 2.05 odds at http://www.Bovada.lv for Americans and http://www.Bodog.eu for everyone else.. That's a very solid price – better odds than a coin flip, and I'd say the Hawks are actually better than a coinflip by far to win in regulation here.
Finally there is the Over. It's a tricky one, but to go back to coin flips again – I'd say 5 goals in a playoff game is pretty much right around a coinflip. If you can get better odds than 50/50 you go with it, and with 2.10 odds here for the Over 5 I'd say it's worth a bet. It's not dripping in value, but it's an +EV bet.
.
Follow @BetNHL
BetNHL.ca » Tonights Tips »