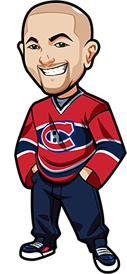 Written by Graeme on Thursday, May 22nd, 2014
Follow @BetNHL
What a game last night!
Just when people were counting the Kings out, they come back in a ridiculous fashion. The Blackhawks have looked almost invincible at home, and the Kings come back from 2-0 down and win 6 freaking 2, with 5 goals in the 3rd period and Carter picks up the assist.
Kings have been just bizarre in the playoffs – some games they'll get destroyed, others they'll dominate – and then they'll do what they did last night and get dominated only to pull it back in crazy fashion.
I think my favourite part of the night was when the Blackhawks pulled the goalie with 4 minutes left on the clock, and the Kings promptly score. There's a reason the Avs would practise the crap out of that Mr Quenneville.
And then we have tonight. The New York Rangers take on the Montreal Canadiens. Yay?
Before I get into the betting analysis for that, let me quickly remind everyone about the Risk-Free Bet over at Bet365. It's for the Champions League Final between Real Madrid and Atletico. Be sure to claim that – nothing like a risk-free bet. Head over to http://www.Bet365.com now.
Let's check out the betting odds for todays game:
Montreal Canadiens vs New York Rangers Betting Odds:
Canadiens To Win: 2.55
Rangers To Win: 1.57
Over 5 Goals: 2.05
Under 5 Goals: 1.80
Odds courtesy of http://www.Bet365.com

Montreal Canadiens vs New York Rangers Betting Tips:
Tonight is very, very tough.
First like I said last night – at this stage, Over 5 goals in the playoffs between these teams is generally a coin-flip. So if you can get over 5 goals at anything better than 2.00 odds it's probably +EV. Therefore it's razor thin, but there's value on the Over 5 Goals at 2.05 odds.
Now for the game itself.
There are so many questions. The Habs CAN win, that's for sure. They made some silly errors in Game 2, but there's the possibility that they can rally. During the playoffs and the regular season they seem to have played even better on the road – putting in some great performances and picking up some wins. Habs also beat the Rangers on the road this season – 2-0 back in October. Habs didn't have Price then either – Budaj was in net. And that was in MSG at the Rangers home opener.
Yep, Habs do enjoy crushing the fans on the road.
But then we have the goalie situation of course. Habs had 3 goalies on the ice today – Condon, Tokarski and Budaj. I get the feeling they don't have full confidence in any. I haven't even been able to confirm who will be in net tonight.
The fact is though – the Habs odds of winning at 2.55 just aren't worth it. Those are very weak odds. On the flip side – the Rangers at 1.57? Ugh.
I'm completely undecided at the moment – my only betting tip would be bet a team in regulation. The Rangers are 1.95 odds which is great value there – if they win, it'll most likely be in dominating fashion again. But then you have 3.50 for the Habs – if the Canadiens manage to pull off yet another big road victory, you're getting a massive price for that.
So go with the regulation win for whoever you like – and bet that at http://www.Bet365.com
Follow @BetNHL
BetNHL.ca » Tonights Tips » NHL Betting Tips May 22nd 2014: Habs vs Rangers Game 3