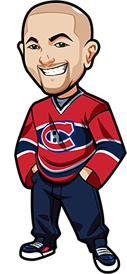 Written by Graeme on Tuesday, May 27th, 2014
Follow @BetNHL
With last nights demolition job of the Chicago Blackhawks, the LA Kings are now favourites to win the Stanley Cup. The odds of the Kings winning the cup are now 1.83, with the Rangers at 2.40, Blackhawks 10.50 and the Canadiens at…ugh….23.00.
Personally, I think the Blackhawks winning the series over the Kings has value at 6.25 odds. The next game is in Chicago, and you can bet 6.25 odds at http://www.SportsInteraction.com for the Blackhawks to win the series. I'd personally put them at around 4.00 and even then I think that's high.
Blackhawks are a team with the experience. They're at home in Game 5 and if they win that one it's a massive momentum swinger. Honestly I think that's a no-brainer bet that's just dripping in value. Hell, do it at World Betting Exchange with the hope that Blackhawks win Game 5, then trade off at much lower odds for a nice profit.
I would not however touch the Montreal Canadiens at 8.00 odds sadly. I honestly don't know what odds I'd take us at the moment – we are just a mess.
Quick reminder for anyone interested – the WNBA season has started, and that means my WNBA Tips are back. The first tip was last night and I won that, so hey a 1-0 start can't beat it. I haven't checked to see if there is any tips for tonight yet – but if there is I will post them within the next hour or so.
Let's get to the NHL Betting Tips for May 27th, 2014:
Rangers vs Canadiens Betting Odds:

Rangers To Win: 1.95 odds
Canadiens to Win: 1.86 odds
Over 5 Goals: 1.95
Under 5 Goals: 1.86
Odds from http://www.SportsInteraction.com
Rangers vs Canadiens Betting Tips:
Let's get the easy one out of the way right now – the Over/Under 5 goals is to be left alone. As I've said every game thus far – it's a coinflip at this stage. Anything above 2.00 odds should be an automatic bet. With the odds of below that it's -EV. Let's stay away from that one.
Now onto the game winner.
Something interesting – Carey Price. Yesterday before practise, he was out skating. Today he was also out before practise – but this time in full gear. Of course the media is going nuts with rumours that he could make a comeback early on – with many speculating that he will play tonight.
I believe that this is simply an incentive play for the Habs, and a smart move by the coach. There's no doubt that Price being out has severely disjointed the Canadiens – and this is a reminder to the rest of the team that if they get through, Price is back. The coach is hoping that this will get the Habs playing as a team, and push them on. I mean seriously – Price got the Habs here. This is a great move by the coach if it works – telling them look – this guy is almost back. Beat the crap out of the Rangers.
I honestly don't know if it will work or not. But the Habs were 3-2 down to the Bruins and pulled back and won. Tokarski has been fantastic in goal. You're got a crucial Game 5 at the Bell Centre. I just find it very hard to bet against the Habs tonight. The Rangers odds are quite weak too at just 1.95.
I'd go with the Habs in regulation tonight. You can bet that at 2.45 odds at http://www.SportsInteraction.com.
Rangers vs Canadiens Betting Props:
All 4 games have had goals in the 1st period. 3 out of the 4 have been before 9:30.
Let's go with that. Goal before 9:30 at 1.83 odds at http://www.Bovada.lv for Americans and http://www.Bodog.eu for everyone else..
For a player prop – well I like Pacioretty to score but not at 2.50 odds. Too slim.
Let's go with Derick Brassard Anytime Goalscorer. 4.30 odds at http://www.SportsInteraction.com
Now I'm off to play me some Watch Dogs!
Follow @BetNHL
BetNHL.ca » Tonights Tips »