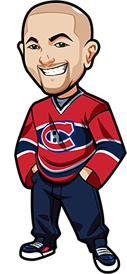 Written by Graeme on Monday, January 11th, 2021
Follow @BetNHL
Are we seriously just a couple of days away from the beginning of the NHL season? Unreal.
With the NHL returning on Wednesday, January 13th rest assured that me and Scott will be here to provide our usual free NHL betting tips for the entire season. We're really excited about that!
Before we get to that we are going to cover a variety of futures. These aren't included in our stats and we do it more to get us amped up for the season than anything else. However we actually have a really good record with these futures and always approach it in a serious manner.
Today I will cover the NHL North Division. Due to time constraints we are going to have to cram them in 2 a day. We'll be going through each team and do the hard work for you – listing the best odds. This could be a very fun division as really the Senators are the only team you can truly write off.
NHL North Division 2020/21 Betting Tips & Odds:
(These odds are the best odds you can find for each team)
Toronto Maple Leafs: 2.31
Edmonton Oilers: 5.75
Montreal Canadiens: 6.00
Calgary Flames: 8.50
Vancouver Canucks: 9.00
Winnipeg Jets: 11.00
Ottawa Senators: 101.00
NHL North Division 2020/21 Team Betting Analysis:
Toronto Maple Leafs:
The Leafs are the favourite to win the North Division and one of the top favourites to win the Stanley Cup. Last season they finished 8th in the East and stumbled out in the qualifying round against the Jackets.
They have made the moves during the off season with some real experience and grit in the side. Joe Thornton, Wayne Simmonds, T.J. Brodie and Zach Bogosian joined. They've also got a solid backup in Jack Campbell in net.
They certainly have the quality. Will they be able to gel and bond together? The sportsbooks certainly think so with them being heavy favourites.
Canada: 2.31 Odds at Sports Interaction (SIA) + free $20 bet.
USA: +125 Odds at Bovada.
Everyone Else: 2.25 Odds at 888 Sports.
(Odds correct as of 2021/01/11 11:00:42 AM EST but are subject to change.)
---
Edmonton Oilers:
I'm not a big fan of the Oilers however I have to make them my pick to win the NHL North Division due primarily to the odds.
Points and results wise, they performed better than the Leafs last season. Draisaitl stepped up so big last season and it was the type of thing the Oilers needed.
The pickup of Tyson Barrie is a risky one but interesting. Klefborn being out sucks hard for the Oilers and they are going to be conceding quite a few goals. However they also have the offensive power to usually combat that.
Basically I think the Leafs should be favourites but I think the Oilers have some excellent value especially when the Leafs are prone to phoning it in and thinking they can just show up. With most people already handing them the division, they may be more demotivated than usual.
One other thing to consider is with it being a shortened season, the variance will be higher. I think Oilers are a nice value play here.
Canada: 5.75 Odds at BetOnline..
USA: +475 Odds at BetOnline..
Everyone Else: 5.75 Odds at BetOnline..
(Odds correct as of 2021/01/11 11:00:42 AM EST but are subject to change.)
---
Montreal Canadiens:
Meh. That's pretty much how I feel about the Habs this season. Some big moves for sure and I am not happy at seeing Domi going. Added some real veterans and some interesting picks. I do like Jake Allen.
A lot of people do seem to be excited about the Habs. We'll just have to see how it goes. My prediction is a solid but unspectacular season by the Habs who should hopefully 3rd. Just have to see. Hopefully Suzuki has another great season.
Basically a very balanced team that won't be lifting the cup or winning the division but should be in the top half. Can't see betting them myself at that price.
Canada: 6.00 Odds at Bovada.
Everyone Else: 5.50 Odds at Bet365.
(Odds correct as of 2021/01/11 11:00:42 AM EST but are subject to change.)
---
Calgary Flames:
Flames picking up Markstrom is great. They're one of those teams where it's easy to get a bit excited for but then they struggle. Their defence looks interesting this year and they are deep enough roster wise. Johnny Hockey needs to step up.
Flames are just not a team I really see contending for top spots. Not too many big moves during the off season to really excite. A lot depends how their lines go etc but I wouldn't be counting on the Flames winning this division this season. At the price they're an easy pass for me.
Canada: 8.50 Odds at Bet365.
USA: +600 Odds at Bovada.
Everyone Else: 8.50 Odds at Bet365.
(Odds correct as of 2021/01/11 11:00:42 AM EST but are subject to change.)
---
Vancouver Canucks:
An interesting price for the Canucks. They looked solid last season and were quite the surprise in the playoffs progressing through the qualifying round and the first round, before losing to the mighty Vegas Knights in 7 games.
They progressed the furthest out of the rest of the Canadian teams last season and gained a lot of respect for that.
However it was a big off season for the Canucks with a whole crapload of changes and ones that I am not impressed by. Some real bad cap mismanagement it looked like. Can't believe they gave us Toffoli. Schmidt is the only real off season positive I'd say.
There were just too many bad offseason moves in my book and I think we are going to see some serious regression from the Canucks. I believe the Canucks generally struggle against teams in Canada too. I don't see much from Vancouver this year.
Canada: 9.00 Odds at Mr. Green
USA: +600 Odds at Bovada.
Everyone Else: 9.00 Odds at Mr. Green
(Odds correct as of 2021/01/11 11:00:42 AM EST but are subject to change.)
---
Winnipeg Jets:
Man what was happened to the Jets. Wasn't so long ago they were in the Conference Finals and looking awesome. They had a busy off season. I'm really pumped to see Stastny in action here and it could be good. They have a hell of an interesting offense.
Honestly if you are looking for a big underdog play I don't hate the Jets. For obvious reasons Laine will be looking to have a massive season. Just the way it is. Goaltending is solid. Offense is great. The only real issue is that defense. They were the top team for HDCA last season and that is a major concern. Especially considering 3 of the top 10 teams for generating HDCF last season are Canadian (Habs, Leafs and seriously – the Sens).
I'm fine with my Oilers bet as I feel that is risky enough – but Jets aren't a completely awful play.
Canada: 11.00 Odds at Mr. Green
USA: +900 Odds at Bovada.
Everyone Else: 11.00 Odds at Mr. Green
(Odds correct as of 2021/01/11 11:00:42 AM EST but are subject to change.)
---
Ottawa Senators:
Sens were rather poor last season and are expected to struggle this season. At that price of course it's tempting to back them even if it's just like $1 isn't it?
They've had a big overhaul to their squad. Big investment in Matt Murray. We know that dude CAN go – but man he had a piss poor year last year. Has a lot to prove and hopefully that motivates him.
I actually think the Sens could surprise and not end up bottom. Yeah we don't know how long it will take this team to gel. But one thing to remember is variance is going to play a big part of this season due to it being shorter. I can't see the Sens winning it at all – but they should be a surprise. Guys like Galchenyuk etc could make for some fun. Hopefully the Sens can contend to at least make the division that much more exciting.
Canada: 101.00 Odds at Bet365.
USA: +4500 Odds at Bovada.
Everyone Else: 101.00 Odds at Bet365.
(Odds correct as of 2021/01/11 11:00:42 AM EST but are subject to change.)
---
Follow @BetNHL
BetNHL.ca » Tonights Tips » NHL North Division 2020/21 Betting Preview, Odds & Tips