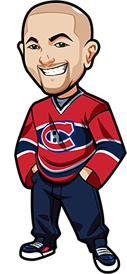 Written by Graeme on Saturday, January 11th, 2014
Follow @BetNHL
Well today is the big day for both of us – Scotts Blackhawks vs Graemes Canadiens. We are both on the 401 right now, and heading up to Quebec for numerous beers, wings and hopefully some good hockey.
Quite the night of hockey last night. The Penguins went up 2-0 and took their foot off the gas. The Oilers managed to get back in the game, and squeeze out the surprise win. A lot of sloppy play by the Pens, and it'll be interesting to see if they can bounce back tonight.
While we lost our Kessel bet of over 4 shots(he only had 3), we had a lot of good feedback from you guys who enjoyed a player prop as it really added to the game. So for entertainment, we'll try and include a player prop bet where applicable in addition to the tips. Be sure to get yourself an account at Carbon Sports where the NHL player prop betting tips will be. Just click the banner below:
Our December Dynasty contest comes to a close tonight with the tie-breakers. Person with the most correct wins. Ryan B says 6 goals, Blackhawks to win and score first, win 4-2 and Kane will score. Georgi says 5 goals, Hawks to win and score first, 3-2 win Chicago and Sharp to score first.
Alright it's January 11th 2014, we've had 3 large triple triples each already and we're ready to go with the NHL Betting Tips for January 11th, 2014:
Write ups will be short due to mobile typing. Man I miss my blackberry sometimes. Can't get used to this android keyboard.
Habs vs Blackhawks Over 5.5
Like both of these teams to get the goals tonight. Habs d obviously strong but so is hawks offense. Back overs.
Penguins vs Flames: Penguins in regulation
Expect a big bounce back game from the Pens tonight. They were complacent last night but they still looked great. They will have been read the riot act last night.
1.8 odds back them to win in regulation
This weekend, check out Carbon Sports. United States friendly, they're offering a 25% to $250 welcome bonus and a $25 Free Bet on your mobile device. ">Click here.
Ducks vs Coyotes: Ducks to win
Ducks on a big run. Doing great and even when coming from behind they are able to do the business.
Like them to beat the Coyotes tonight.
Player Prop:
So far only prop up is for lightning game. We will do one or two over Twitter. Twitter.com/BetNHL
Bet player props at carbon sports below. If you really want one for Philly game giroux over 2.5
Follow @BetNHL
BetNHL.ca » Tonights Tips »