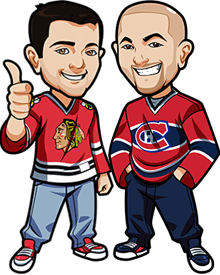 Written by Graeme & Scott on Wednesday, May 1st, 2013
Follow @BetNHL
Well there were some fun games last night. We hit up a bar here in Kingston, Ontario to watch the Leafs vs Bruins games and the bar was pretty much full of Leafs fans. We had to check the roof hadn't blown off the place after Van Riemsdysks early goal. Although what a difference a couple of periods make. The Leafs are going to have to be wary – they looked overclassed and could be seriously blown out this series.
We had an EXCELLENT betting night last night as well. We went 2-1 with the Home Teams -1.5 and the Islanders/Penguins having a goal before the first. We also went 2-0 with the live betting tips, as we bet the Bruins to score the 2nd goal and the 3rd goal in the game, and won both bets there.
Tonight Graeme is EXTREMELY excited and nervous as his Habs are playing. He wanted to tip "Habs correct score 9-0" but after much debate, we decided against betting that one.
Remember we will be doing live betting tips. We've been killing it so far, so remember to do the following:
(1) Sign up at Bet365 (Americans: We recommend http://www.bovada.lv where all our live tips will apply.
(2) Follow us on either http://www.facebook.com/BetNHL or http://www.twitter.com/BetNHL.
(3) Keep tabs on Facebook and/or Twitter during the game for our live betting tips in-play.
Be sure to have Bet365 (Americans: We recommend http://www.bovada.lv loaded up in your browser or mobile phone too. You need to act fast – the Bruins 2nd goal bet there ended up being a 3 minute window approximately between the tip and the goal. That's why we recommend Bet365 (Americans: We recommend http://www.bovada.lv due to their speed and simplicity when it comes to live in-play betting.
Alright so NHL Playoff Betting Tips for May 2nd, 2013 – let's go go go:
Rangers vs Capitals Betting Tips: Goal Before 9:30
These two teams should come out fast and furious. Both teams were red hot leading into the playoffs and they're both going to want to put on a show here. The overs would be appealing here if not for the solid performance from Holtby in the final stretch.
We really like both teams to come out bouncing and offensive. Ovechkin knows the hockey world is watching him right now and he's going to want to make an instant impact.
Bet goal before 9:30 currently 1.85 odds at Bet365 (Americans: We recommend http://www.bovada.lv.
Red Wings vs Ducks Betting Tips: Red Wings to Win
The 3-1 scoreline for the Red Wings vs Ducks Game 1 was slightly misleading. Really it was an extremely easy game, and the power play was the difference for the Ducks.
Detroit will be better prepared for that and we were reading about the preparation the Red Wings are doing. Rather than practise yesterday for example, they went out in the sun to play soccer.
This is going to be a much more relaxed and calm Detroit team going into this game. Anaheim meanwhile will feel the pressure knowing they've got to hit up Detroit after this and that vociferous home crowd. In what is a relatively even match-up, we like Detroit to calmly pick Anaheim apart, and take the W.
2.15 odds at Bet365 (Americans: We recommend http://www.bovada.lv.
LA Kings vs St Louis Blues Betting Tips: Blues to Win
This all comes down to Quick, on our opinion. The Kings were extremely lucky that it wasn't 4-0 or 5-0 in Game 1 as the Blues absolutely hammered them. Quick was ridiculous with 40 out of 42 saves.
However his confidence will be shattered after that mistake that cost them the game. We just can't see LA dealing with St Louis in this one – similar to Game 1 – and like St Louis to pick them apart and Quick won't be able to save them this time.
We do think LA will turn it around at home, but this one is for the Blues – 1.86 odds at Bet365 (Americans: We recommend http://www.bovada.lv.
Follow @BetNHL
BetNHL.ca » Tonights Tips »