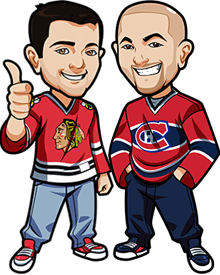 Written by Graeme & Scott on Tuesday, April 12th, 2016
Follow @BetNHL
We had a very good season betting on the NHL and we hope to carry that into the playoffs.
We went 223-191 for +22.85 units during the regular season including two double unit months in November and February.
We also went 30-36 for +15.99 units with the 1st period High Confidence system. The medium/low confidence systems weren't good enough to handle the variance but that's a very good indicator over a fairly decent sample size. That system will be part of our regular tips next year and we'll be evaluating it during an article this Summer as we see how things would have went if ties were a push.
For OHL followers we had a great season going 28-15 for +17.57 units and it could have been more, after loosening up our requirements with a month or so left. Next season, in addition to the OHL we'll be looking into handicapping the AHL and possibly other leagues.
In addition we went 3-2 in our Will They/Won't They Make the Playoffs for +1.29 units. Our two losses were the Jets and the Flames, and we won with Bruins and Oilers not making playoffs, and Wings making it. Funny to think that the Oilers were heavily favoured to make the playoffs as it was evens odds.
But right now it's time for the playoffs. For each playoff series we'll tell you who we believe will win giving our individual opinions, and then in how many games as well as a lot of you seem to like that. We'll then provide the bet that we think you should make for that particular series.
Today we cover the series that begin on Wednesday. We'll have no Game 1 betting tips but we'll provide individually for each game from Game 2 onwards.
New York Rangers vs Pittsburgh Penguins:
Scott: The Penguins won the season series 3-1. 
The Pens had a rough start to the year, fired their coach and replaced him with Mike Sullivan.  Under Sullivan this team really caught fire.  They will enter the playoffs with a nice momentum swing.  This team managed to climb the standings even without superstar Malkin thanks to Crosby who was one of the best players in the league for the 2nd half of the season.
The Rangers will be without their captain Ryan McDonagh.  He's a crucial part of this team and they will desperately need him with the high powered offence Penguins to deal with.
The Rangers had a good year but towards the end of the season things went south for them.  And with their downward trend and the Pens hot 2nd half,  I like Pittsburgh to come out of the first round although I do see the Rangers stealing some games thanks to Lundqvist. Penguins in 6
Graeme: Initially I was going to take the New York Rangers here. I had declared to Scott that I'd go with whoever was the underdog for the series and that is the New York Rangers. My theme for this write-up was going to be "consistency vs streaky" however the more I look into it, the more I like the Penguins.
Just sitting back and looking at how things changed after the coaching change at the Penguins is so impressive. On top of all that the Penguins have overcome a lot of big injuries, and have also overcome having Phil Kessel in the team. I just love the confidence we have seen from the Penguins and I think they will take this series relatively easily. They ARE streaky though so I expect Rangers to get 1 or 2 wins in there. I'd recommend Penguins in 5 as their road form is pretty darn good.
Consensus Bet: Penguins to win the series.
(Most books don't have the odds up yet you may wish to wait to bet this for better odds. We will update when they're up)
Canada: 1.75 Odds at 888 Sports.
USA: -150 Odds at BetOnline..
Everyone Else: 1.75 Odds at 888 Sports.
Chicago Blackhawks vs St. Louis Blues:
Scott: The Blues won 3 of the 5 games between these teams this season.
The Hawks did sputter towards the end of the year.  That had a lot to do with Keith being suspended and Hossa and Crawford being hurt.  They did bring in plenty of new faces at the deadline and it was expected that their would be some hiccups with all the new players.  Kane had just an amazing season and could very well continue into the postseason.
The Blues have been eliminated in the 1st round of the playoffs for 3 straight years including once to the Blackhawks.  They had a great year but can they finally get 9ver the hump in the postseason?
I expect this series to be amazing and could be the best series of the first round.  There's a lot of history between these two teams.  But it comes down to experience.  The Hawks know what it takes to win in the playoffs and after game 1 they will have their workhorse Keith back.
Hawks in 6
Graeme: I'm a bit concerned about the Blackhawks form post-trade deadline. They looked like they were lacking focus, and there's concerns about Keiths fitness.
However for me it comes down to the credibility for these teams when it comes to the playoffs. History in the playoffs can be a big factor and you have the Chicago Blackhawks who have hmmm…a pretty damn solid recent history when it comes to the playoffs. Then you have the Blues, eliminated in the first round three times in a row. Basically the Blues have not yet proven they are a playoff team, while the Blackhawks can handle it very, very well. Add in the fact that the Blackhawks are the underdogs? I like it.
Blackhawks in 5.
Consensus Bet: Blackhawks to win the series.
Canada: 2.05 Odds at Bet365 (Americans: We recommend http://www.bovada.lv.
USA: -110 Odds at Bovada.
Everyone Else: 2.05 Odds at Bet365 (Americans: We recommend http://www.bovada.lv.
Detroit Red Wings vs Tampa Bay Lightning:
Scott: These teams split the season series 2-2.
The Wings made the playoffs for an unheard of 25th straight time. Part, if not most, of that can be attributed to the Bruins total collapse but you still have to respect the Wings and all they have accomplished.
The Lightning will be looking to make it back to the finals after losing the Cup to the Blackhawks last year. To make it there the Lightning will need to have an incredible first round. They will be without Stamkos and Stralman, both players are crucial to this team and will need the other healthy players to pick up the slack.
I think that it will be just to much for the Lightning to accomplish. Sure Bishop is a fantastic goalie but unless he can win this series all by himself then this will go the way of Detroit.
Speaking of Detroit, Datsyuk announced that after these playoffs he will leave the NHL. If he follows through on those words remains to be seen but I think he has enough left in the tank to do some damage.
Lightning in 5
Graeme: The Wings managed to scrape into the playoffs when it really didn't look possible. What's interesting is how they managed to do it. They won when it counted against the Flyers but then they failed to win when it counted against the Bruins, and again failed to win when it REALLY counted against the Rangers. Despite all that here they are.
They are going up against a Lightning team who have had such an odd season. One of the big things that turned them around was Stamkos saying he would stay with Tampa prior to the trade deadline and then consistency set in. However now the Lightning are without Stamkos. Hoever the Lightning have incredible depth as well.
For this one I honestly can't pick a winner. I think every game will be very close with both teams battling. Both have their positives, both have their negatives and I'm going to back this one to go to 7 games.
Scotts Bet: Tampa Bay Lightning -1.5 in the series.
Canada: 2.25 Odds at Bet365 (Americans: We recommend http://www.bovada.lv.
USA: +195 Odds at Bovada.
Everyone Else: 3.00 Odds at Bet365 (Americans: We recommend http://www.bovada.lv.
Follow @BetNHL
BetNHL.ca » Tonights Tips »