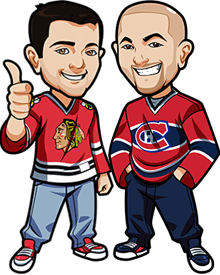 Written by Graeme & Scott on Tuesday, September 22nd, 2015
Follow @BetNHL
The new NHL season is almost upon us! We're just a couple of weeks away – and we are itching to be back and providing you with daily winning tips for a 4th successive year!
We'll have a lot of articles leading up to the season covering the futures – but for now we thought we would do some NHL betting tips on the pre-season games.
Now some disclaimers here – pre-season is a crap shoot. I mean look – the Leafs won, do I need to say anything else? It's a lot less about winning the game and more about getting the kids some ice time, trying out some guys and different lines etc.
But man – we are just itching to bet some hockey.
You can bet on the NHL pre-season games at Sports Interaction. They are our #1 recommended online sportsbook for Canadians – and well, everyone else.
They don't accept Americans. If you are American, bet the NHL pre-season at Bovada.
These tips will not count as part of our record. They're here to keep us entertained throughout the pre-season as we can only watch so much pre-season hockey without gambling – after the first games we're like "Yep, let's bet on these".
So don't go into this thinking "YES TIME TO MAKE A ZILLION DOLLARS". It's quite possible we go 4-0 and it's just as possible we go 0-4. We're okay with that.
Leafs vs Canadiens
Leafs coming off of winning both of their games against the Sens yesterday. 4-3 in OT and 4-1. This could be the only winning streak the Leafs have in 2015-2016. Sure it's only the preseason but anytime the Leafs and Sens play its meaningful. This is the Habs first preseason game so they will be looking to get off to a good start.
Habs Win for 1.91
Non-US bet at Sports Interaction, USA bet at Bovada
Red Wings vs Blackhawks
First game for both of these teams. The Hawks won the Cup so they have had a shorter offseason than any team except the Lightning. I'm leaning towards the Hawks in this one. They need to get people talking about their on ice activities instead of the Patrick Kane situation.
Hawks for 1.91
Non-US bet at Sports Interaction, USA bet at Bovada
Capitals vs Bruins
Both teams made some huge moves in the offseason and seem to be headed in opposite directions. The Bruins moved Lucic and Hamilton and had 3 picks in the first round of the draft. The Caps added Oshie and Williams to only strengthen their already potent offense.
Caps for 1.91
Non-US bet at Sports Interaction, USA bet at Bovada
Stars vs Panthers
Dallas could be a beast this year. They were already a strong offensive team but they jumped all over the Hawks and their cap issues. They snagged Pat Sharp and Johnny Oduya. Both will help the team immediately and bring some valuable experience to the young team. The have one of the best top 6 in the NHL now with Seguin, Benn, Sharp, Spezza, Hemsky and a healthy Nichushkin. Also brought in another former Hawk, Antti Niemi, to ease the workload of Kari Lehtonen.
Stars win for 1.91
Non-US bet at Sports Interaction, USA bet at Bovada
God it's good to be back. We've missed this!
Follow @BetNHL
BetNHL.ca » Tonights Tips »