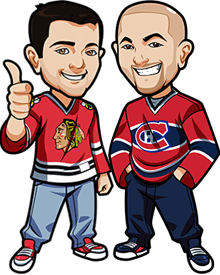 Written by Graeme & Scott on Wednesday, June 13th, 2018
Follow @BetNHL
Hi all,
Welcome to the end of season wrap-up post where we cover the season that was, and look at what to expect during the off-season.
First of all – WOW, what a season and what a way to end it. The Vegas Knights from day 1 shocked everyone and it was just amazing to see. And even though they got all the way to the finals, there was many who think it was wrong for them in their first year to win it.
So it was nice that it was won by a team that deserved it. The Washington Capitals have been one of the best teams over the past few years and they finally were able to bring their regular season domination to the playoffs. This was a team that really deserved it and fought hard in every playoff series.
Anyone who disagrees clearly hasn't seen a drunk Ovechkin on Instagram. It's now about a week since it began and he doesn't look like he's stopping anytime soon. Major props to Ovechkin for that and clearly made it all worthwhile.
Before we go any further – just because the NHL tips are done, doesn't mean sports in general are done.
First of all you can find both of us over at BetCFL.net providing CFL Betting Tips each and every week. We're really looking forward to it this year as it should be a much more high profile sport due to Johnny Football, and we expect it's only a matter of time before he gets the starting job.
Graeme will also be providing Daily Soccer Tips and already has his betting tips for every teams opener from the 2018 World Cup up. He's also providing golf tips at GolfBettingTips.org and is going into the US Open hot with a +2000 winner the previous week. For more details on that see his US Open 2018 Betting Tips.
Finally he just started up his WNBA Tips for a 12th successive season and got off to a winning start. Be sure to check them out.
From a betting perspective, we were very happy to deliver yet another winning season. We went 171-136 for +33.90u in the regular season for one of our most profitable seasons yet.
In playoff series betting our unanimous picks went 5-3 for a +2.83 record. For individual playoff games we only had TEN unanimous picks and many we were directly opposed upon. That's why we do the playoffs one individually – as otherwise it leads to big fights! Anyway we went 7-3 for +3.78 units on that.
So that's a Total Season Record of 183-142 for 40.51 units profit. That's not even factoring in the non-NHL leagues. Combined in the KHL, AHL, WHL and OHL where we had a winning record in all 4 of them, we profited +16.67 units. Great stuff!
We also went 1-3 in Division Futures but with that winner being the Caps, we actually profited 0.21u from there! We don't track futures in our records but nice to have additional profit anyway.
Anyway it was great to have another successful season and what made it even better for us was all of you guys. The amount of people commenting this season was insane. You have no idea how many nights we were sitting around having beers just talking about how great it was to see that or what an awesome community we had. A big thank you to all the readers and all the people who commented throughout the season.
Speaking of – there had been discussions about weekly sports threads here. Feel free to discuss the next week of sports in the comments below. If it takes off great we'll start a new one each week so you can discuss the World Cup etc. If not – no biggie.
We'll probably be back soon with some bets in time for the NHL Draft. The KHL season starts up soon and Graeme will be doing tips for that as well as potentially some other leagues as well. We'll also see about content during the off season depending on time such as sportsbook reviews, advice articles and guides and much more.
Anyway that's it from us. Hope you enjoyed it and we can't wait to back for the 2018/2019 season and hopefully we can make it yet another profitable one.
Follow @BetNHL
BetNHL.ca » Tonights Tips »