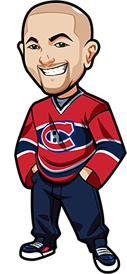 Written by Graeme on Wednesday, April 8th, 2015
Follow @BetNHL
Thanks everyone for their patience and understanding over the lack of tips this past week. I'm back now, and ready to provide tips for the rest of the regular season as we get into an intense playoff race.
I fully did plan on doing tips every day – but I just couldn't fit it into my schedule. I was just swamped every day, and I was also struggling with the time difference – ended up being up till 4am-5am every night, then soon as I woke up the next day we were off out doing something.
I actually tuned out of hockey completely for a few days. Just spent today getting caught back up. I can't believe last nights results – the Oilers getting that win, and helping the Flames! I mentioned it a few months ago but I have MULTIPLE bets on with people where I bet the Flames would make the playoffs. I placed one $50 bet with a friend and next thing I know people are lining up – all of whom didn't think the Flames would make the playoffs.
I could be quite a rich man after this week!
And sorry for the lateness of tips for today. It's amazing how much work it can take to really get caught up on hockey.
Let's get to it:
Stars vs Ducks Betting Tips:
Both games between the two have went Under 5.5 goals, and I'm going to back that one again for their game tonight.
Ducks obviously want to grab that top seed in the West, so they still have some motivation. But you have to expect this game to be more of a run out for them – give some of the players like Beleskey and Jackman some much needed ice time before the playoffs. The intensity most likely won't be there – especially if Getzlaf is out.
Stars are a bit of a concern as they've been incredibly leaky the past 2 weeks and at this time of season you can see teams go a bit gung ho – whether they're out of playoff contention, or already in it and seeding isn't THAT big a deal for them. But I think this one will go Under 5.5 goals and the 2.10 price sells it for me.
Other Game Thoughts:
If I was tipping the Bruins vs Capitals game, I'd go with it based on the one reason: Bruins want it more. Both teams are even in the odds at 1.90. Capitals have beaten the Bruins twice this season – and looked really good in doing so. But I watched some of the Bruins interviews and read the press for this game – and all I can think is – this is a team that wants to win this more than any of the other games they've played this season.
Finally, I think there's a bit of value on the Leafs to win. I'm actually a bit conflicted on that one – as I think betting it to go to overtime at 4.20 is a good price too. I just see the Leafs giving the Jackets a game of it, as they look to try and finish their season on a somewhat positive note. Leafs are 2.80 to win including overtime which I think is worth a small gamble.
Follow @BetNHL
BetNHL.ca » Tonights Tips »