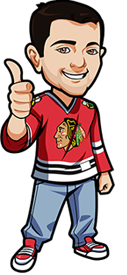 Written by Scott on Friday, November 15th, 2013
Follow @BetNHL
Well we went 1-1 last night with the tips in what was a crazy night of hockey. We won our over 5.5 bet with ease as the Chicago Blackhawks beat the Phoenix Coyotes 5-4 in a shootout. Our loss came when the Kings beat the Islanders 3-2. But this was a bad loss for the isles who were leading 2-0 doing into the 3rd period. Overall it was just an embarrassing 3rd period for them.
The Dallas Stars beat the Calgary Flames 7-3. Tyler Seguin scored more goals then the flames. He got 4 goals and added an assist. The St Louis blues demolished the strong Colorado Avalanche 7-3. The battle of the East and Wests first place team resulted in Tampa Bay beating the Ducks 5-1. Maybe they can survive without Stamkos.
Another solid day of hockey scheduled for us today with 10 games taking place. Toronto plays Buffalo, more on that in a minute, the Los Angeles Kings play he New Jersey Devils for the first time since June 11th 2012, the day the Kings won their first and only Stanley Cup so this will be a great game. The Bruins and Sens square off, always good games between these two, the Capitals play Detroit there are so many awesome games taking place but onto the Sabres Leafs game.
Going to be a fun game to watch when the Sabres welcome the Leafs into town. This is the first time they have played since that crazy game where John Scott and Phil Kessel had issues. Kessel was swinging his stick around like a ninja turtle and Scott was suspended 7 games. Scott is going to play tonight but this time the Leafs will have Orr, Mclaren and Clarkson playing so there is going to be fireworks.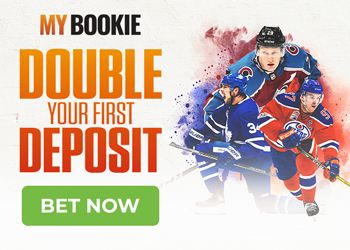 Predators vs Penguins: Penguins -1.5
SO the Penguins have been playing badly, by their standards, as of late so expect them to use this as a game to turn things around.
James Neal is back for the Pens and starting to gain some confidence after his injury. Pekka Rinne is still out with his hip infection and Mike Fisher is listed as day to day with a lower body injury. And add in that the Penguins are at home this is a good bet to make and then you look at the betting odds, 2.35, it turns into a great bet
Bet the Penguins -1.5. With the Penguins latest form this is obviously a risky one, so it's the perfect time to sign up at http://www.5Dimes.eu for Americans(Need to register to see lines) and and http://www.Bet365.com for everyone else. and claim the free bet bonus then you're risking the sportsbooks money!
Kings vs Devils: Devils to Win
As I mentioned above this is the first time these teams have played since the Kings won 6-1 to win the Stanley Cup. Either way this is going to be a fun game to watch as the Kings look to repeat their previous success against the Devils but the Devils want some sort of revenge.
The Kings Are without Jonathan Quick, Jeff Carter, Jarret Stoll and Matt Greene so now is the best chance for the Devils to grab a win and continue their current 2 game winning streak.
Bet the New Jersey Devils to Win at Bovada for Americans and http://www.Bet365.com for everyone else. for 1.90 betting odds
Sharks vs Oilers: Sharks To Win
The Sharks have been playing great so far this year and have seemed to found a perfect mix of veteran / youngster that's working well for them.
The Oilers can't seem to do anything right recently. They have played such sloppy hockey and are getting very little production from their "star players" that Oilers fans have taken to booing them now when on the ice. they are on a 4 game losing streak now and it isn't going to change tonight.
This is a game that may already be determined even before the puck is dropped. Bet the San Jose Sharks to Win at http://www.5Dimes.eu for Americans(Need to register to see lines) and and http://www.Bet365.com for everyone else. for 1.60 betting odds
Entertainment Bet: Sabres To Win
I wish there was a place to bet over / under on total penalty minutes but I haven't found one. The Sabres have just made some personnel changes and have brought in one time Sabre superstar Pat Lafontaine as president of hockey operations and former coach Ted Nolan back behind the bench.
And after their preseason dust up this game is going to be like watching an old Don Cherry's Rock Em, Sock Em video. The Leafs might win this game and they should but with their recent history, the Sabres shake ups and the betting odds for a Sabres win at 2.10 this is a bet worth making on value alone.
For entertainment purposes only we are going to bet that the Sabres will somehow come out on top in this game for 2.10 odds at http://www.5Dimes.eu for Americans(Need to register to see lines) and and http://www.Bet365.com for everyone else.
Follow @BetNHL
BetNHL.ca » Tonights Tips »