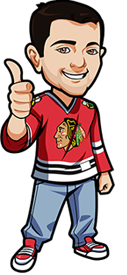 Written by Scott on Saturday, October 26th, 2013
Follow @BetNHL
Solid night of NHL action just not so much on the Tips. We went 1-2 last night but at least our win was a big one with the Avalanche -1.5 for 2.35 odds in their 4-2 win over the Hurricanes. Nothing like kicking a team when they are down.
We had the Leafs to come out on top against the Blue Jackets but the Leafs got beat with their goalie pulled late in the 3rd and the Jackets took advantage of the empty net scoring and adding another in that period beating the Leafs 5-2. If the Blue Jackets could have some consistency they could be down right scary.
We also had the red hot Sens to beat the Ducks but 2 goals in the 1st for the Ducks was enough to hold off the Sens in the 2-1 Ducks victory. It will be interesting to see how the Sens respond in their next game.
Bodog Divisional Dynasty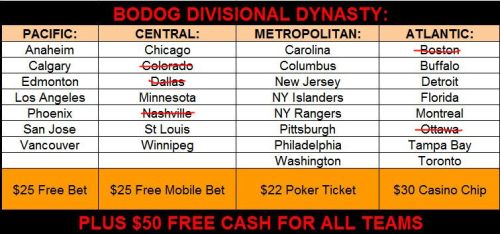 We managed to go 1-1 last night as we had both the Avalanche and the Senators with the Avs pulling out a nice win. Tonight we are going to go with the Boston Bruins to beat the New Jersey Devils as our pick. This is a easy one as the Devils are struggling and the Bruins, well are the Bruins. We will take Boston at home against 97% of the league but when its against the 1 win Devils we love our chances
NHL Betting Tips for Sunday October 26th
Lets have a winning night tonight in both the Bodog Dynasty and the Tips so here we go….
Flyers vs Islanders: Over 5.5 Goals
Ya the Flyers are bad so far this year but with that nice win over the Rangers on Thursday hopefully it was enough of a kick in the pants to finally turn this teams season around.
Both of these teams are capable of scoring goals but only the Isles have managed to do so this year. And with a Great win over the Penguins yesterday the momentum will surely carry over to this match up
Plus former Isles captain Mark Streit faces his former team for the first time. Michael Grabner returns from his 2 game suspension so all signs point to a huge scoring game
Bet Over 5.5 Goals in the Flyers vs Islanders game at http://www.5Dimes.eu for Americans(Need to register to see lines) and and http://www.Bet365.com for everyone else. for 2.00 betting odds.
Also if you are confident enough in the Flyers chances there is some money to be made in them coming out on top in this game where a Flyers victory pays out at 2.15. This isn't our official tip, the Over is, but there is some nice money to be made with a Philly win.
Rangers vs Red Wings: Goal Before 9:30
Who doesn't love a matchup between 2 original 6 teams. The Rangers are hurting while the Red Wings are flying. Both teams realize the importance of a quick goal and tonight should be no different.
The Rangers are in desperate need of wins and if they don't turn things around now expect some huge changes on the horizon. And for the Red Wings they are an aging squad. Sure they are playing great as of now but can the veterans keep up this pace and will they be able to stay healthy? They need to gain as many points now while they are still healthy so when the inevitable happens, they begin to get hurt, they have enough points to still get into the playoffs
Bet that a goal will be scored before 9:30 of the first period at http://www.5Dimes.eu(Need to register to see lines)
Capitals vs Flames: Over 5.5 Goals
This is an easy pick for us to make. The Flames have been one of the surprises so far this year with their ability to not only score but to be able to play competitively against some strong competition. Their rookies have been just amazing so far and let's hope, for Flames fans, they can keep up that pace.
Ovechkin is unreal. He has been playing out of this world so far this year and is scoring at a goal per game pace. That won't keep up the whole year but let's jump on the Ovie train while its hot. Washington is a much better team than their record would suggest and they are about to follow the lead of their captain and go on a tear.
Bet that the Capitals vs Flames game will go over 5.5 goals at http://www.5Dimes.eu for Americans(Need to register to see lines) and and http://www.Bet365.com for everyone else. for 1.80 betting odds.
Follow @BetNHL
BetNHL.ca » Tonights Tips »