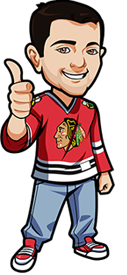 Written by Scott on Thursday, November 7th, 2013
Follow @BetNHL
We only had one tip last night and it was the Pittsburgh Penguins to beat the New York Rangers. The Rangers jumped out to an early lead scoring 3 unanswered goals and never looked back beating the Penguins 5-1.
The Blackhawks continued to have the Winnipeg Jets number beating them for the second time in 5 days winning last nights game by a score of 4-1
From a slow night of action last night to a action packed night for us tonight with 11 games scheduled. There are some obvious mismatches on paper tonight but there are also a few that could go either way.
Bodog Divisional Dynasty
We had Chicago as our team in the Dynasty last night and they pulled through beating the Winnipeg Jets with ease. For tonight we have good night for the Dynasty as we have 5 picks. All of these teams were picked on this night because it showed the best chance for each team to win when we sat down and went over each teams schedule.
Philadelphia Flyers
Columbus Blue Jackets
Carolina Hurricanes
Los Angeles Kings
St Louis Blues
Only a couple days left for this and with these 4 picks we are moving closer to not only our free prizes for closing out another Division but the $50 free cash for betting on all teams.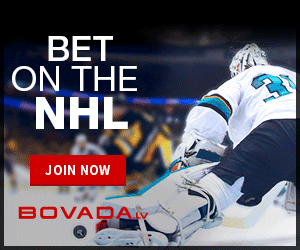 Rangers vs Blue Jackets: Blue Jackets To Win
Yes the Rangers pulled off a huge upset win last night against the Penguins but the Rangers have been anything but consistent this year. This is the first of 4 meetings between these two teams this year.
The Rangers are still without Rick Nash while the Jackets are still without Nathan Horton but have been all season. The Rangers are going to be fatigued for this game after laying it all out last night in their win so look for Columbus to go for the early lead and take advantage of this tired squad.
Bet the Blue Jackets to beat the Rangers for 1.71 betting odds at Bovada for Americans and http://www.Bet365.com for everyone else.. This is also one of our Bodog Divisional Dynasty picks so a chance to kill two birds with one stone here
Wild vs Capitals: Capitals To Win
The thing with having a superstar like Alex Ovechkin on your team is that the rest of the team kind of sits back and watches and expects you to do it night in and night out. When your superstar gets injured, like Ovechkin just was and Crosby was last year, the team is forced to play more like a team. So while an injury does hurt the team it may be a blessing in disguise.
The Caps come into this on a 3 game winning streak and Ovechkin is back and up to his usual tricks scoring twice and adding an assist in his return. The Capitals were already a strong team but now that they realize they can accomplish more with or without Ovie they are now scary.
Bet the Capitals to bet the Wild for 1.86 betting odds at Bovada for Americans and http://www.Bet365.com for everyone else.
Canadiens vs Senators: Goal Before 9:30
This is the first of 5 meetings between these teams and as always it will be a good game. The last time these 2 played each other was during the first round of last years playoffs when the Sens upset the Habs.
It will be fun to watch these 2 play and the Habs are more excited than anybody about this game as they are looking for some revenge. Both teams tend to score goals early in their games but the Sens also tend to let opposing teams get on the board early quite often.
Only a bridge and a few kilometers separate these teams so as always they are both out for blood and will look to take hold of the game as early as possible.
Bet that a goal will be scored before 9:30 of the 1st period at http://www.5Dimes.eu(Need to register to see lines) for 1.76 betting odds
Follow @BetNHL
BetNHL.ca » Tonights Tips »