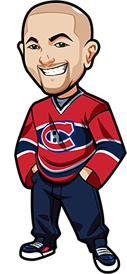 Written by Graeme on Saturday, November 2nd, 2013
What an amazing night of hockey last night! There was 8 games on the card and 6 of them were thrillers. Capitals without Ovechkin just blew the Flyers away in a scary road victory. Penguins had a massive 2nd period against Columbus, and we had 2 games go to overtime with the Avalanche winning against the Stars, while the Senators lost in a shootout to the Islanders.
We went 2-1 last night with the tips for a unit profit. Unfortunately our one loss was the Senators who managed to TWICE blow a 2 goal lead against the Islanders, before losing in a shootout.
We're going to be updating all the monthly stats and our records very soon(just haven't had time yet) and when we do, I'm going to be noting shootout victories and if we've had any. In recent memory I can think of three or four games this season where the team we tipped went to a shootout and lost.
Hopefully you all saw the line brawl last night in the Flyers vs Capitals game. If not there is video footage here. Man I love that crap.
Big day today with a TON of games and FOUR picks in the Bodog Divisional Dynasty! Let's get to it:
Bodog Divisional Dynasty: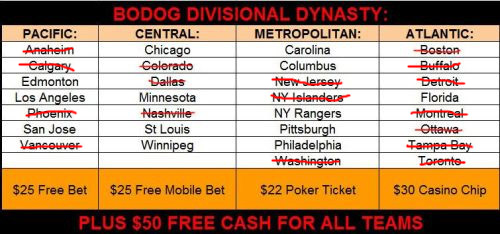 Busy night of hockey tonight, and we have FOUR different teams in the Dynasty tonight.
Anaheim Ducks
New Jersey Devils
Washington Capitals
Detroit Red Wings
So head on over to Bodog and start betting. There's one more day with 4 teams(the 7th) and the rest are just 1 or 2 team nights. We'll have this all wrapped up by the 9th.
Leafs vs Canucks: Leafs To Win
Leafs are going into this one as fairly big underdogs at 2.25 odds at Bovada for Americans and http://www.Bet365.com for everyone else..
This is a tremendous price in a game where evens would most likely be fairer. Phil Kessel is running super hot at the moment(minus the Flames game), and the Leafs have been fantastic on the road. Canucks have a few injuries that hurt them and they just don't have the depth that the Toronto Maple Lafs do.
We love the Leafs here. Vancouver have struggled his season with so many games going to OT while picking up some scrappy wings. Torontos offense is a nice matchup for the Canucks tonight, and we'd recommend betting the Leafs at Bovada for Americans and http://www.Bet365.com for everyone else..
San Jose Sharks vs Phoenix Coyotes: Over 5.5
These two played early in the season and San Jose ran out 4-1 winners. Their offense is clicking even more at the moment, and we like them to produce a lot of goals here. Since that loss and a 6-1 defeat to the Islanders, the Coyotes have turned things around. Their offense is killing it as well, scoring 3-5 goals in most of their last few games. They also aren't focused too much on the defense at the moment.
Both teams offenses are hot, and we love a high scoring game here. Bet this at generous 2.00 odds at Bovada for Americans and http://www.Bet365.com for everyone else..
Red Wings vs Oilers: Red Wings To Win
We're getting a great price of even odds at Bovada for Americans and http://www.Bet365.com for everyone else. on the Red Wings to win. Detroit are on a good start in their road trip here, beating the Flames and the Canucks while the Oilers have been very poor – especially at home. Honestly it's almost mind-blowing that the odds are even.
Edmonton have had a few days to rest – but they've had rests before and that hasn't helped them. They're just a sad team at the moment, and with a home record of 1-4-0 they are the 2nd worst team at home in the NHL, while we rate Detroit as Top 5 on the road.
Back the Red Wings to win here – get $200 free at http://www.5Dimes.eu for Americans(Need to register to see lines) and and http://www.Bet365.com for everyone else..
Best America Sportsbooks for NHL
BetNHL.ca » Tonights Tips » Nov 2nd, 2013 NHL Betting Tips