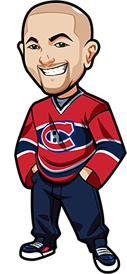 Written by Graeme on Friday, November 10th, 2017
Follow @BetNHL
Hi guys,
Good to be back writing tips again. For those unaware I was away since Saturday down in the States.
Went to a Guns N' Roses concert while there but the real highlight was attending my first NFL game – Packers vs Lions.
What an experience that was. And you know it wasn't the best game ever – quite a weak game overall. The crowd was also deflated with Rodgers being out. Despite all that it was still a ton of fun and I think NFL is probably my favourite sport to experience.
I know we have a lot of non-American readers so if you're ever visiting the States, I'd recommend planning the trip around an NFL game. So fun.
One website that I want to give a shoutout to was Don't Tell Me The Score. if you've never visited it they show extended highlights of each NHL game from the previous night.
I wasn't keeping too up to date with the scores while I was down there so it was really great each morning to be able to wake up, and over a couple of coffees just watch each game and really keep up to date on it all.
I really want to tip the Bruins tonight. Just feel that Matthews being gone will hurt the Leafs. Most teams are strong when missing a key player for one game then struggle the next and I think that'll happen here. But I've spent over an hour looking at that one and can't pull the trigger. Not sure the Bruins have what it takes to stop the high powered offense, and to beat the Leafs at home this season you have to beat them with your own high powered offense. Just not sure the Bruins have what it takes.
I also wanted to tip the Knights but the odds are too poor at around 2.10. Based on Lagace and his results, as well as the Jets and their results – the Jets should be a much bigger favourite in my opinion. In saying that I can't tip the Jets despite their performances based on the Knights home record.
After pouring over everything tonight there's only one I like enough to tip:
Capitals vs Penguins Betting Tips:
These two teams played a month ago here and in that one, the Capitals lost 3-2 to the Penguins.
Neither offense or team is exactly lighting it up at the moment. Crosby has went 9 goals without scoring and just as it looked like the Capitals were getting back on track, the Sabres thumped them 3-1.
We do like both teams to raise their game for tonight though. Defensively neither team is doing good at all so that's a good sign as despite any offensive woes you're still talking about two teams with excellent offense. Crosby has a decent enough record against the Caps with 61pts (20 goals) in 42 regular season games.
It's a tight one but with both teams defensive issues and overall performances I think they'll both be up for it tonight and we can get a good competitive game.
Over 5.5 Goals
Canada: 1.91 Odds at BetOnline..
USA: -115 Odds at Bovada.
Everyone Else: 1.91 Odds at BetOnline..
For those who follow it, I'll get back to doing OHL, WHL, AHL and KHL Tips probably by Sunday. I didn't bother updating my betting systems for those while I was away so have a weeks worth of games and stats to track.
Follow @BetNHL
BetNHL.ca » Tonights Tips »