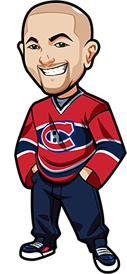 Written by Graeme on Sunday, November 10th, 2019
Follow @BetNHL
A 2-0 win with the NHL Tips last night. I also went 2-0 in the OHL including a maximum unit play. Hope some of you followed that one! That's 6 out of the 7 non-NHL systems I run in the positive this year (Extraliga is -0.05u). Pretty pumped about that.
While winning bets is always the best thing, something else that I always feel good about is those betting tips that are on my shortlist, but I don't actually bet or tip. Yesterday for example, some bets I was seriously considering were:
Panthers/Islanders Over 6.5
Blackhawks/Penguins Over 6.5
Coyotes in Regulation
Hurricanes in Regulation
Predators/Sharks Over 6.5
They were on the shortlist – I even mentioned yesterday I was looking at a couple of them. Actually I think three of them I even started writing them up before changing my mind as I looked into the data to back my analysis. Incredibly all 5 of them lost. I've said it before on here but it's always important to keep track of bets beyond just the bets you make. Keeping notes as to why I avoided the above so I can remember that going forward.
Not that it's some steadfast rule or anything. It's not like "I avoided Hurricanes in Regulation because of Reason A so that applies to everything going forward" but it just helps remind me about things like that when I attempt to cover every angle of a game.
Highest voted game to go to OT yesteday was Flames vs Blues. 2nd highest? Leafs vs Flyers. Both went to OT. That's pretty impressive that you've managed to do so well with that for 3 days running. We'll mix it up today though. Poll is at the end of the tips.
Man – busy Sunday. 7 games. All kicks off early with Rangers vs Panthers and we've got games spread out all during the day.
Rangers vs Panthers Betting Tips:
I've been on the fence on this one all morning in regard to backing the over 6.5 goals or not.
On one hand, you've got two teams with poorly ranked defenses. 25th & 23rd for GAA. Rangers also 31st for SOG allowed. offenses ranked high for goals. 6th & 9th. Panthers also have the 2nd highest SOG per game.
Historically these two have had a lot of high scoring games. Have to go back 9 games for a game that wasn't more than 5 goals.
On the other hand – Panthers are on a 2nd leg of a B2B. They haven't had the best goal production in similar scenarios. King Henrik has strung together a couple of good games and is riding with confidence. (Although their defense is still crap). Plus a matinee game which always spooks me. (Thanks again for that data Uglyos I'll go through it this week).
It's one of those plays I don't love – but by the numbers, I think it's a play.
0.5u on Over 6.5 Goals incl OT/SO
Canada: 1.86 Odds at BetOnline...
USA: -115 Odds at BetOnline..
Everyone Else: 1.86 Odds at BetOnline...
(Odds correct as of 2019/11/10 10:51:04 AM EST but are subject to change.)
Other Game Thoughts:
Stars at Jets: Maaan this is a tough one and I am going to make it the poll. On the one hand, Stars are performing much better. However the majority of that was at home. Jets are also clicking right now. A true coinflip in my opinion. What's your thoughts? I think I lean Stars.
[poll id="35″]
Devils vs Canucks: Canucks are a pretty boss home team. Way too high a favourite though especially after their last couple of results. I think they win, but I'm not comfortable putting money on the Canucks in regulation yet.
Knights vs Wings: Is Robby Fabri the savior? Man that'd be nice. I'd love the Wings to ride that momentum but not sure they have it. I've bet Fabri to score anytime at 4.40 instead just for the hell of it and then a smaller bat on him to score first at 21.00. Everyone can bet that at Casumo except Americans who should go to Bovada for player props.
Flyers vs Bruins: Pretty sure Bruins bounce back here. Big rivalry game, they'll be up for it after these losses. Personally I feel these are the games that if you're going to win the Stanley Cup, you need to step up and win. Flyers on a B2B too. The in regulation odds aren't great. I think this is one I'll regret not tipping Bruins in reg or -1.5 honestly. I'll be watching it closely and if the Flyers go ahead, may look at live betting the Bruins.
Leafs vs Hawks: Leafs are a team that have just turned me off totally after losing Tavares. He's back now but they don't seem the same team yet. They're without Marner too. Gut feeling this ends up being a super high scoring game.
Oilers vs Ducks: Oilers are a good bet in this spot but they're a team I've said before are so hard to back. There's definite value in them here though especially with Ducks stuttering a fair bit lately. Can't advise it but will be betting the Oilers personally.
Non-NHL Betting Tips:
Written by Graeme
(All below systems are based mainly on mathematics and statistics with very little human input and are deemed experimental. Use at your own risk.)
OHL Betting Tips (9-6, +1.14u): 0.5u on Hamilton Bulldogs in reg 1.75.
Where To Bet the Non-NHL Leagues:
Canadians: Bodog and 888 Sports.
Americans: Bovada.
Everyone Else: 888 Sports.
Follow @BetNHL
BetNHL.ca » Tonights Tips »