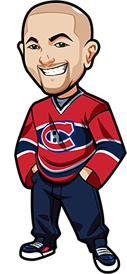 Written by Graeme on Thursday, November 10th, 2022
Follow @BetNHL
A 0-1 night as the Penguins actually showed up on the road. Solid goaltending helped them out there a bit in that game, as they were able to overcome the Caps 4-1 and put the game under.
Slight schedule change as I'll be with you through Tuesday, then a few days off and Scott takes over as I recover from gallbladder surgery. Hopefully the recovery is a breeze and I'll be back at it on the Saturday but just have to wait and see. There may be a slight disruption in tips for a few days but will make sure to do a daily post for people to comment etc.
10 game slate let's get to it.
Bruins vs Flames:
Bruins bounced back from that blip against the Leafs to beat the Blues. Now they face a Calgary team who haven't won a game in 6 matchups. Most of them have been close though.
I feel like sportsbooks have the right odds on this one. Feels like a close one that the Bruins pip by a goal. Which means we could see an empty net situ. Bruins have actually been quite successful against that this year. I dunno I like the Bruins a lot this season so far but I'm not loving this spot against a desperate Calgary team who were a tad unfortunate against the Devils.
Hurricanes vs Oilers:
Canes on a B2B after getting thumped by Florida. I don't feel very good about either team right now. Not sure who is starting in net for the Canes. Campbell is a liability. Oilers without Kane now too. Too many question marks.
Red Wings vs Rangers:
The odds of the Red Wings at about 2.35 are interesting. Rangers are hella inconsistent so I mean just based off the Rangers results and almost feels like 50/50 right off the bat.
Advanced metrics have Rangers better Corsi and Fenwick by a good margin in last 10.
Really the biggest thing about the Rangers is lack of goalscoring. They're creating the chances but they can't convert as much as they should. xGF/60 of 3.34 and a GF/60 of just 2.15 over last 10. Red Wings don't have a horrific SCGA/60. High danger chances aren't an issue really in this one.
Red Wings missing Matt Luff now although he hasn't been a massive factor. Sundqvist might be back in the game tonight.
With the chances the Rangers generate, you need solid goaltending. Husso has been solid although I know Nedejkovic performed well against NYR on Sunday but he was a disaster in that Sabres game and hasn't given me much to be confident about yet And if this is one of those games where the Rangers light it up then so be it.
Red Wings win incl OT/SO if Husso is in net
Ontario: 2.35 Odds at Bet365 (Americans: We recommend http://www.bovada.lv
Canada: 2.39 Odds at BetOnline.
USA: +139 Odds at BetOnline.
Everyone Else: 2.39 Odds at BetOnline.
(Odds correct as of 2022/11/10 9:47:00 AM EST but are subject to change.)
Devils vs Senators:
Devils with a rare poor performance against Calgary but it was also a frustrating one for them with some goals disallowed and a slow start.
I have to hope that means they won't show up complacent here. The advanced metrics aren't actually as overwhelming as you'd hope here. The Senators have a great scoring ability. But the Devils have showed they can match teams in that regard. Oilers/Devils game is a good one to look back to for that. We don't have much data to go on, but Sens road offensive metrics are very weak as well.
Devils in Regulation if Vanecek is in net
Ontario: 1.86 Odds at Bet365 (Americans: We recommend http://www.bovada.lv
Canada: 1.86 Odds at Bet365 (Americans: We recommend http://www.bovada.lv
USA: -120 Odds at BetOnline.
Everyone Else: 1.86 Odds at Bet365 (Americans: We recommend http://www.bovada.lv
(Odds correct as of 2022/11/10 9:47:00 AM EST but are subject to change.)
Blue Jackets vs Flyers:
I just find it so hard to back the Flyers as their advanced metrics are terrible. Very reliant on Hart although props to Felix for a good performance against the Blues. I'd actually bet that one and would have canceled when I heard it was Felix in net but didn't have a chance. Was nice not having to sweat.
You're basically still gambling on their goaltending holding up. Probably a decent chance of it here, but the odds aren't good enough for me.
Sabres vs Knights:
The over is a possibility here. The Knights goal conceding has went off the rails last couple of games. Eichel back here for I Believe the second game should get a warm welcome! I just don't have enough confidence in the Sabres offense in this game. Senators are a great offense by the metrics so it's hard to judge Thompson based on that game. I'm fine skipping it altogether.
Islanders vs Coyotes:
Coyotes actually getting some results. Good for them. Islanders should win. Would have to be -1.5. I don't like it. Islanders defensive metrics are poor and reliant on goaltending ATM. Coyotes with some confidence and their goalscoring is good right now. Not liking the handicap there
Blues vs Sharks:
Two pretty trash teams although Sharks performing better lately results wise. Bookies have Blues as hefty favourites. Metrics are pretty close. Blues just struggling to score more than anything else. In theory this is a good spot for them to do that.
It's funny as I'm looking at the teams they have played recently to compare defensive metrics to the Sharks and it's like man – the Flyers are literally the worst team in the NHL for those so it says something they could only snag one goal.
Anyone with generally worse metrics than the Sharks do end up conceding some (Canadiens, Preds) but still win by scoring a bundle.
I'm close to this one being a Sharks play. I just don't have enough confidence in their offense.
Avs vs Preds:
Fine skipping this one. Preds can be tricky, Avs I'm not ready to hang my hat on them yet.
Kings vs Blackhawks:
Yeah I mean Kings as almost biggest favourites of the day at 1.37 seems a tad much. Especially considering last 10 Hawks have a better goals for and against than the Kings. But Hawks grossly overperforming in goals for.
Honestly though Hawks have been great at taking their chances. Hawks have had goaltending issues and that is a factor. I'm seeing conflicting data on who starts for them here. Honestly I think the Hawks are value. I'd probably price them at about 2.50. There's just a bit of a difference here when it comes to something I'd bet, and something I'd advise. In this case, I can't advise it.
Follow @BetNHL
BetNHL.ca » Tonights Tips »