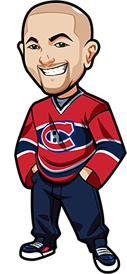 Written by Graeme on Friday, November 10th, 2023
Follow @BetNHL
A 2-0 night, although in hindsight, I'm not happy with one of the betting tips I made.
That one was the Senators vs Canucks over. While that won, I felt it was quite fortunate to come in. I don't think I factored in the Sens on a back to back as much as I should have – which is silly as back to backs have een a big factor for me this season.
It's common for a team to fizzle out on that 2nd leg of a B2B. It doesn't mean they just give up during the game or collapse with exhaustion – just that extra game time can wear on a team, and their play becomes that much more sloppy, or their finishing becomes that less clinical etc. It can also really affect the tempo of the game.
Thankfully, the Canucks piled on the goals for us. But not one I am too happy with in retrospect.
Bruins got the solid win for the 2-0 night. And oh man how about those Edmonton Oilers? I'm not sure who I get more joy out of more at the moment – the Oilers or the Leafs. Two teams with generational players and just absolute dumpster fires.
Six-pack today. No tips, just write-ups.
Leafs vs Flames:
I'm really quite fine not betting anything involving the Leafs for the forseeable future. Going to be an interesting game, with the Flames starting to produce. Preds on paper looked a tough game for them to score but they were able to do so.
If they're able to continue to do so, this could be a banger of a game. It's barely over 6.5 though and a skip for me as it's based on a lot of "hope". The data isn't quite there yet. Then you have the Leafs xGF/60 of 2.94 last 10, and Flames 2.82 xGA/60. SCG stats don't match up. Nothing I like enough to play here.
Panthers vs Hurricanes:
Panthers offense need to keep it up so I can keep gaining confidence in them. This is an obscenely close game by the data. No play. I might chuck something on it to go to OT actually. Metrics generally point that way to where it may be a rare valuable OT play. 4.20 for that is a nice price. I just never like advising OT plays as they are such high variables.
Sabres vs Wild:
Wild on a B2B after a disappointing performance against the Rangers. Buffalo are about 1.83 and looking at the data, that seems right on the money. Not seeing value there although if you factor in Minnesota on a B2B, it might give Buffalo enough of an edge.
I saw someone mention Wild on the road yesterday so I looked into the metrics for that but not seeing enough of a difference to where you'd want to back against them when they are away. On top of that, Buffalos home metrics are pretty piis poor. No play.
Devils vs Capitals:
Devils coming in off that Avs loss. Capitals – I mean hell you look at their last 6 results and not too shabby. They're getting the points. Not a team I'm interested in backing – but a team we may have to be wary off.
These two played on the 25th and the Caps ran out 6-4 winners.
Looking at the metrics – I mean the Devils should score goals but by god they are conceding a lot. And we saw Washington able to take their chances against them.
I do think Devils run out winners here in regulation.But the combination of the defensive metrics, and the result just a couple of weeks ago puts me off enough to pass.
Ducks vs Flyers:
Flyers have a lot of concerns at the moment. Their goaltending situation is obvious, but now their offense has completely disappeared the last two games.
Anaheim have generally been playing well and when these two met on the 28th, the Ducks won 7-4. That was one where I would have taken the Flyers except luckily passed due to Ersson being in net and well you saw the result.
As for this matchup? Flyers offensive metrics are still slightly better than Ducks but it's not a large margin. Flyers their defense continues to play well it's the goaltending that is letting them down.
I'm a bit concerned about the Flyers camp and the way they reacted to the Sharks loss. From what I've seen it's basically "we were the better team, we were unlucky, blame special teams".
Hart is back tonight and confirmed so I'll pass on this one. If it was anyone else I'd take Ducks here. It still won't surprise me if Ducks get the W.
Knights vs Sharks:
This one is a no play right off the bat. Knights -1.5 is 1.54. Insane. When you look at their xGF and SCGF stats – man, not a chance.
Sharks are 5.25 odds ha. I tell you right now – in hockey if you see that sort of thing, you bet it. Full stop. Anything above 4.00 for a team win incl OT/SO falls into the laws of variance and it's an +EV play. Do you expect to win? Hell no. But mathematically, you play it.
Follow @BetNHL
BetNHL.ca » Tonights Tips »