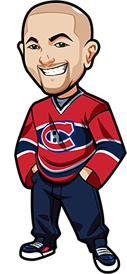 Written by Graeme on Friday, November 11th, 2022
Follow @BetNHL
An 0-2 night last night.
The Devils got the win against the Senators. Unfortunately, it wasn't in regulation. Like I said yesterday – the Sens have a great goalscoring ability but the Devils are able to match that. Alas that's all they could do – match that. They couldn't overcome it in regulation.
And as I said with the Rangers offense, you're basically flipping a coin on them so I was happy to take the extra value I felt there was on that pick. For the first two periods, the coin flip looked good. Alas then the Rangers lit it up, which is something they are capable of. Basically while that sucked, I feel good that I was prepared for it. It's when a team does that sort of thing when you aren't expecting it that there should be cause for concern.
Four games today let's get at it:
Leafs vs Penguins:
There's games that come up where at first glance I'm just like "Eh, I'm good to skip this" and this appears to be one of those. Leafs have started to get some results going but their offense still isn't delivering like they should on a consistent basis. Pens bad run but they bounced back there. By the metrics this looks like a close game, which on paper I'd say makes for some slight value on the Pens line. Especially with momentum and possibly some confidence in Casey. But you look at their results prior to the Caps game and it's like nah. Not playing that.
Capitals vs Lightning:
Ugh. Another one like the above. Can't trust either team. I know a lot of people who got burned with Tampa on the 8th as they were believing they were back to the Tampa we expect them to be. But they have been struggling results wise, barely beatign some of teh crappy teams.
The Metrics are also very similar. The difference is Tamps offense is better. Buuut like I said that's against a few poor teams. I'm fine skipping this one. It does motivate me to dive more into weighted metrics though, as I feel one could have a big advantage if they do that. I do factor weighted metrics in but it's all done by hand at the moment as opposed to some sort of system.
Stars vs Sharks:
Stars coming off that Jets blowout. Sharks the loss at the Blues last night. Bookies have Stars as overwhelming favourites. Corsi & Fenwick last 10 the same. xG, goals – nothing too remarkable standing out. Edge to the Stars in most categories. Stars with a great SCGF/60. Capitalize on their high danger chances.
Always a bit wary about goaltenders who are just returning from injury with a bit of hype, but I think he can be the difference maker. And the Stars can also outscore teams. Stars in Regulation if Oettinger in net. And it's a bit similar to that Rangers deal above – where if Oettinger gets lit up, then it's one of those things where I at least know it's a possibility. Now if the Stars get shut out? That's something that would be a surprise for me and where I'd have to go and really revisit it all to see what I missed.
And in saying that now I've actually went back to look at it again before posting. So actually, Stars are reliant on high danger goals with the 3rd highest in the league. The Sharks have the 11th best HDGA/60 in the league. So now I need to dive in and look at comparable teams and see how the Stars preformed.
Aaand actually, I am not liking what I see. Teams with a better HDGA/60 are Bruins and Jets and Stars struggled against them.
Hmmm – this one isn't as clear cut as I thought it was. And with odds of about 1.76 – yeah, I'm not loving this one. I'm not betting on it as it's a tad closer than I thought. If I were getting slightly better odds I'd take this especially with Sharks on a B2B. I had a look to see if things looked better for us in games where Reimer was in net, but that doesn't appear to be the case. Could be a case of overthinking this one, but basically I had Stars in reg if Oettinger in net – but after some extra analysis prior to posting, I'm skipping.
Kraken vs Wild:
Seattle on a tear at the moment. I was saying that earlier in th season – if they could just get the goaltending going they could be a factor. That is happening. Still some high xGA but the goaltending has popped up for them.
They just blew the Wild out 4-0. In saying that, the metrics for the last 10 are pretty close. Kraken scoring way above what they should Wild a solid GA/60 despite that blow out.
I wouldn't begrudge a pick on the Kraken, but I'm just not feeling it. Goaltending on both sides is too big a factor for me, plus the Kraken offense has to regress and this could be a game where that happens.
Follow @BetNHL
BetNHL.ca » Tonights Tips »