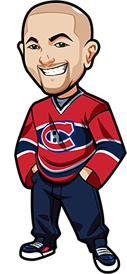 Written by Graeme on Saturday, November 11th, 2023
Follow @BetNHL
No plays yesterday.
It was a solid, high-scoring night of hockey. Leafs and Flames had a hell of a battle, with the Leafs winning in a shootout.
Big win for the Panthers over the Canes, and the Capitals continue to plug away with an excellent result over the New Jersey Devils.
The Sharks bounce back ends at 2, as the Knights got a convincing win over them.
"Only" 12 games today. I'll take it.
Wings vs Blue Jackets:
Wings coming in off that Habs loss, as their stumbling run continues. Jackets also very inconsistent. This is the type of game where I love the data – because from just my own perspective, I have absolutely no clue and would pass on it in a second. But when you dive into the data – sometimes there is something that stands out.
Alas, not in this case. Jackets score more but Wings create more. GA & xG the same. One of those where it's very close and much like the Habs game, I'd maybe have the Wings as slight favourites but not where the books have them.
When you look at the 5 vs 5 metrics they swing a lot more in Red Wings favour. No bet but if the Wings can keep the penalties to a minimum, they should be enough to see off the Jackets here.
Jets vs Stars:
Jets come in on a nice 3 game run. Stars defensive metrics continue to be very poor with goaltending saving them. I presume Oettinger is in net. Jets score a lot more than they should right now so going against a top goalie could be an issue for them.
I lean on the Stars here but the odds of 1.83 are where I'd price them, and I'm a bit wary of Winnipeg being at home and the momentum despite inferior opposition. No bet.
Canadiens vs Bruins:
Habs stopped their skid with the win over the Wings. Boston now have two in a row with solid wins over the Stars and Islanders. So is there enough to back them in regulation here?
Corsi and Fenwick metrics are surprisingly practically the same. Bruins scoring more anc conceding loss but xGF/60 stats are similar. Habs xGA/60 is higher, and the SCG stats are in the Bruins favour.
So this is close. Habs GA/60 in 5 vs 5 is insanely good as is their SCGA. The home/road split is now what I have to dive into. Bostons metrics drop off a fair bit on the road ut that's to be expected. The good news is the Habs defensive metrics are worse at home by a large margin. And it's not just against freak teams that have high xGF etc.
Habs also have one of the worst HDCA/60 in the league, while Bruins have one of the better HDCF/60 and the 4th best HDGF/60.
God – the work I have to go through just to say Bruins in Regulation.
Ontario: 1.83 Odds at Bet365 (Americans: We recommend http://www.bovada.lv
Canada: 1.83 Odds at Bet365 (Americans: We recommend http://www.bovada.lv
USA: -121 Odds at Bovada
Everyone Else: 1.83 Odds at Bet365 (Americans: We recommend http://www.bovada.lv
(Odds correct as of 2023/11/11 8:58:24 AM EST but are subject to change.)
Senators vs Flames:
Sens coming off the Canucks loss and they have been dismal at home lately. Flames on a B2B after the Leafs game.
My concern here is this Flames offense, which has got going quite a bit lately. So the overall metrics for say the last 10 it's hard to use them when you look at what they are doing the last 3 games. Their xGF has always been good and now they are producing.
I'm going to pass on this one. Sens odds are too low although Flames on the B2B after last nights game I think it could be an uphill battle for them. But that hot offense and the Sens leaky goaltending isn't a good combo.
Lightning vs Hurricanes:
Tampa coming in off that Blackhawks loss. That was such a sweat for me as my Over 2.5 goals system on Patreon had Tampa. So you get the 2 goals in just 12 minutes, then it's a sweat until the final 2 minutes of the game. But that's why I love sports betting – as I ended up being super invested in that game.
Hurricanes continue to struggle. Bookies have this as a flip. Canes Corsi is a juggernaut which is always the case for them. Anyway yeah looking at the metrics I can see why it's a flip.
The Lightning offense is what stands out though with some excellent stats. Canes also on a back to back.
Man, I think I need to take the Lightning here. It's one of those plays I don't really like myself – but the data just pushes it towards a play. Their goalscoring ability at the moment is excellent and it should be a case of if the Canes can keep up. On the B2B with their offense struggling somewhat – I don't think they can.
I'll go with Lightning incl OT/SO. It's actually tempting to bet the regulation play but the line has me a bit concerned in that I feel Tampa should be more heavily favoured and I'm missing something. So we'll have that safety net in there.
Ontario: 2.00 Odds at Bet365 (Americans: We recommend http://www.bovada.lv
Canada: 2.02 Odds at BetOnline.
USA: +102 Odds at BetOnline.
Everyone Else: 2.00 Odds at Bet365 (Americans: We recommend http://www.bovada.lv
(Odds correct as of 2023/11/11 8:58:24 AM EST but are subject to change.)
Leafs vs Canucks:
I mean on paper as dogs, the Canucks are a bet here. Especially with the Leafs on a B2B and unable to carry any momentum.
This Leafs team scares me of course more based on what they should be doing compared to what they are doing. And this is one of those odd bets where while I look at it, and it all makes sense, but I jsust don't love making it.
But I think I gotta go with Canucks incl OT/SO if Demko in net. Leafs goaltending and defense is torrid and as long as the Canucks keep playing the way they are, they should be able to beat them.
Ontario: 2.05 Odds at Sports Interaction (SIA) - Non-Ontario bet $10 get $200
Canada: 2.05 Odds at Sports Interaction (SIA) - Non-Ontario bet $10 get $200
USA: +105 Odds at BetOnline.
Everyone Else: 2.05 Odds atBetOnline.
(Odds correct as of 2023/11/11 8:58:24 AM EST but are subject to change.)
Penguins vs Sabres:
Pens with the edge here for sure. Much better corsi & fenwick, better SF%. Goals against is a bit of a weakness but Sarbes have worse xGA.
The defensive metrics are just what put me off taking the Pens in regulation here. Plus man the pens are just an odd team anyway right now and hard to back. I think they have enough to take them here but it's a bit close.
Islanders vs Capitals:
Islanders with back to back losses and conceding a bunch of goals while doing so. Not great. Maaaybe a good spot to right the ship but man who knows with this Caps team. They have a superb xGF/60 last 10. 7th best xGF/60 overall this season (although it drops huge when you go to 5 vs 5). Islanders in 5 vs 5 have the 5th worst xGA.
If it wasn't for the back to back, this might actually be a sneaky play on the Caps. I would have to dive into it more to confirm, and as I'm not betting them due to the B2B and it's a big slate I'm not going to. But it's an intriguing one.
Predators vs Coyotes:
Preds come in with back to back losses and hope their home form is better after a piss poor road trip defensively.
Metrics for this one put me off betting the Preds even if they were my first thought at a quick glance. Coyotes offensive metrics versus the Preds defensive metrics. No thanks.
Avalanche vs Blues:
Blues with 3 wins out of the last 4. I'm still fine not backing the Avs. Unlike the Kraken matchup where I said Seattle had value, I don't think the same of the Blues. Avs should win this one. In regulation is only 1.74 though and that's a bit low. But yeah this one I'd be surprised if Avs blow it and think it's an okay play.
Kraken vs Oilers:
Not betting anything involving the Oilers either. Looking at the data – man, I don't even know. Really tight one.
Kings vs Flyers:
Flyers with the big win last night as they rolled with Ersson. Kings are a team I really like this season but I'd have to take them on the handicap here. Hart was sick yesterday and didn't play.
I'd have to take Kings -1.5. If Hart isn't in net – I don't hate it. Flyers have an excellent xGA/60 but their goaltending is leting them down a lot right now. I think that's the issue for me here – If it was goaltending AND defense that was the problem for Philly, I'd be all over the Kings -1.5 assuming Hart not in net. But when you run all the defensive metrics, the Flyers are a top 10 team so to actually go with the handicap – nah.
Follow @BetNHL
BetNHL.ca » Tonights Tips »