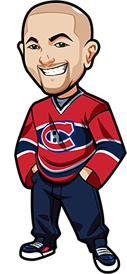 Written by Graeme on Thursday, November 12th, 2015
Follow @BetNHL
Sorry that tips are a bit late today. Despite so many games today we've been stuck working on the tips for hours as it's actually a very difficult day. Hopefully the work pays off.
1-1 last night for a slight loss.
What a game Penguins vs Habs was. Penguins having a period with just 1 shot on target, and also hitting the post 4 times including one in overtime on a PP by Letang. That was insane but luckily they got the win in the shootout.
The Penguins win was a bit tighter than I would have liked – man was that intense. The Penguins hit the post 4 times including one on an overtime PP by Letang. That was insane! What a great game that was though.
Our loss was with the Anaheim Ducks in regulation. The Ducks managed to take the lead three separate times and blow it every time. And while it didn't matter – have the Ducks even practised 3 vs 3 at all? When it went to overtime they looked completely lost out there.
Really looking forward to Rangers vs Blues today. I went into todays tips ready to tip the Rangers – especially with their price. But then I started to look closer and I flip flopped to the Blues. While the Rangers home streak is nice the calibre of opponent is a fair bit weaker than the Blues road results. They're 7-2-0 including 100% record on the Western Canada trip.
Then you want to look at the under for obvious reasons but it should be a very competitive game and so yeah – just going to skip that one.
Let's get to todays betting tips:
Senators vs Canucks Betting Tips:
Games between these two are always fun to watch. They're one of those combinations that always seem to bring in goals and we're hoping for similar tonight.
Senators come into this off the back of a 7-5 loss to the Preds which is tilting the goals balance a bit. Canucks also coming off a 5-3 win over the Jackets. Some of their goals were due to poor goaltending but it's not like the Sens have Price in net.
We'll go with Over 5.5 goals. It's 1.90 at most places(and that's with line shopping), but one book has a nice line on it:
Canada: 2.02 Odds at BetOnline..
USA: 2.02 Odds at BetOnline..
Everyone Else: 2.02 Odds at BetOnline..
Leafs vs Predators Betting Tips:
Reimers in net – need we say more? Well the last three games between the two have went over including an 11 goal thriller last season. And by thriller, we mean the Leafs lost 9-2.
Nashville coming off a 12 goal game against Ottawa. Leafs actually can't always be counted for a game going over and their last 3 games have went under but we like this one to do so and hope to see a fired up Leafs team.
Over 5.5 goals.
Canada: 2.24 Odds at BetOnline...
USA: 2.24 Odds at BetOnline..
Everyone Else: 2.24 Odds at BetOnline..
Coyotes vs Oilers Betting Tips:
This one almost seems like a trap line as the Coyotes are such a nice price. They're coming off the win over the Kings and have a days rest. Oilers will be tired after their game last night.
Can't count the Oilers out. Even without McDavid their offense has a ton of confidence. Coyotes are around 1.85 to win the game including overtime – but we're going to take the riskier odds for Coyotes to win in regulation.
Canada: 2.34 Odds at Pinnacle Sports.
USA: 2.23 Odds at 5Dimes.
Everyone Else: 2.34 Odds at Pinnacle Sports.
Follow @BetNHL
BetNHL.ca » Tonights Tips »