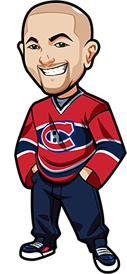 Written by Graeme on Saturday, November 12th, 2016
Follow @BetNHL
A winning night last night as we correctly tipped the Flyers/Leafs game to go Over 5.5.
We also went 2-0 in the AHL and 1-0 in the WHL. Nice little Friday night.
I think 6 games is the general sweet spot for us when it comes to the betting tips – just in terms of analysis. With only 3 games we tend to overanalyze them really looking for a pick, and with 9 or more games we're sometimes overwhelmed and look to eliminate bets early on.
6 games is really nice though because it allows us to have a really good back and forth discussion. There were a lot of potential picks yesterday but we narrowed it down to just the one. And it's interesting because the 3 other picks we were close to making all came extremely close to winning or losing. We had looked into a Jets win, Devils win and Oilers/Stars over. It was neat that it was ones we just couldn't pull the trigger on – and all 3 of them ended up being extremely close.
Working together doing tips is really helpful and something we'd suggest. Whether it's in the comments below or with a friend etc – get them to play devils advocate. That's generally what we do right off the bat – I'll say to Scott "I think the Blackhawks might win tonight". He'll then look at it from the Capitals perspective etc essentially trying to turn me off the bet. If he can't then we'll explore it further together and make sure that it makes sense.
Alright it's Saturday and we've got 11 games on the board. Let's get to it. For the first time this season we actually have a 1st period betting tip too. Remember that those are very high variance. Last season we won 30 and lost 36 – but due to the added value profited 15.99 units.
Leafs vs Penguins Betting Tips:
You've got two top teams on offense, and the Leafs leak goals like crazy. Penguins haven't exactly been top on defending either.
I'm a bit concerned about the Leafs recent road performances and their lack of goals on the road in their last 3 games. But I like what I saw from their offence against the Flyers and Canucks. I'm hoping their play from that Philly game comes in here.
Over 5.5 Goals. 1.88 at Pinnacle.
Sharks vs Lightning Betting Tips:
Jones has been fairly solid this season but I think he's going to have a tough night dealing with the Tampa offense which looks to be getting back in business. The Sharks offense too looks hot after what they did to the Capitals and Panthers.
I'm banking on those being an offensive game tonight. The last few games between these two have went over and I'm hoping this continues the run. Over 5 Goals at 1.74 odds.
Flames vs Rangers Betting Tips:
Coming off that huge upset loss to the Vancouver Canucks, you have to expect the Rangers to be motivated for this one. They're overall the better team. Lundqvist has been a bit leaky this season and initially we looked at Over 5.5 in this one. However the Flames performances recently have been disappointing – their offense has been dominated by the better teams such as the Hawks and Capitals and we see similar here. The Rangers are overall just the better team in almost every way, and we'll go with Rangers to win at 1.75 ods.
Mathematical/Experimental Betting Systems:
(All below systems are based mainly on mathematics and statistics with very little human input and are deemed experimental. Previous Records: 1st Period System 30-36 (+15.99u), OHL 28-15 (+17.15u)
1st Period System: Florida Panthers at 2.70 odds.
OHL Betting Tips(3-2, +1.15u): Sarnia Sting in regulation at 1.70 odds. Erie Otter in regulation at 1.90 odds.
AHL Betting Tips(4-0, +4.01u) : Springfield Thunderbirds to win at 1.92 odds.
WHL Betting Tips(10-6, +2.58u): Moose Jaw Warriors in regulation at 1.90 odds.
1st Period Betting:
Canadians: Sports Interaction, Bet365 (Americans: We recommend http://www.bovada.lv & 888 Sports.
Americans: BetOnline. or Bovada.
Everyone Else: Bet365 (Americans: We recommend http://www.bovada.lv or 888 Sports.
OHL, WHL & AHL Betting:
Canadians: Bodog and 888 Sports.
Americans: Bovada.
Everyone Else: 888 Sports.
Follow @BetNHL
BetNHL.ca » Tonights Tips »