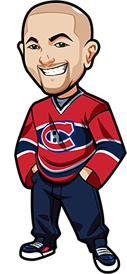 Written by Graeme on Saturday, November 12th, 2022
Follow @BetNHL
Hey guys,
No tips today, unfortunately. Sorry about that.
Long story short – I mentioned the other day that the schedule is changing here slightly over the next few days as I have to go for surgery on Wednesday to get my gallbladder out.
Anyway occasionally, I get gallbladder attacks where I am just in crippling pain, and basically have to lay on the couch with a heating pad.
That's unfortunately one of those days. I was hoping to get to the tips at some point but I am just feeling like crap, and Scott works Saturdays so won't be able to take over. I wouldn't trust myself to go through everything because I'd be trying to rush it and that isn't the way to do things.
Sorry about that. Hopefully I'll be feeling better tomorrow. I'm sure some people will post some picks in the comments so check them out and share your picks in there.
Follow @BetNHL
BetNHL.ca » Tonights Tips »