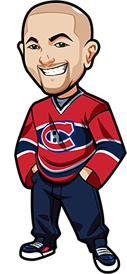 Written by Graeme on Sunday, November 12th, 2023
Follow @BetNHL
A disappointing night yesterday.
The Bruins got that early goal and then man – just took their foot off the pedal for most of the game it seemed. Habs hit them with a one-two punch to wake them up at the beginning of the 3rd, and while they were able to tie it up they couldn't pull the win off in regulation.
Canucks had a good battle against the Leafs but couldn't get the job done. One of those where it sucks but you know what the Leafs are capable of, and sometimes they're actually able to pull it off.
Tampa were just a complete disaster. Just a horrific performance by them for the entire 60 minutes. Very frustrating when a team doesn't show up like that.
Let's see what we have today if anything: Quick write-ups due to time constraints.
Panthers vs Blackhawks:
If there was a play here, it'd be the Panthers -1.5. It's possible, but it's very close. Their SCGF/60 isn't that hot yet. I'd say it's about a coinflip, which is pretty much exactly what the odds are. No play.
Wild vs Stars:
Stars being on the B2B is a bit of a concern. They'll likely start Oettinger which is a bonus. I'll pass. Looking at the data, I'd price the Stars at about the same as the sportsbooks.
Rangers vs Jackets:
Rangers coming in hot. Jackets, not. I like the Rangers here, but if it's a play it's a handicap play.
Looking at the metrics for that, it's not overwhelmingly slow. I'd like to see a higher xGF/60 on the Rangers and their CF/60 and FF/60 are poor too. They're just not creating the chances. In saying that, the Jackets allow a fair bit more chances.
It's a marginal play. If I had a bit more time today I'd do a deep dive into this one to se if it's worth it or not. I feel like it's one where I like it, but it's probably 0EV. Can't figure out yet if Rangers are going to be a goalie dependent team or not. I'll pass.
Canadiens vs Canucks:
Easy pass for me with both teams B2B, Canucks run snapped. By the metrics, its a Canucks win. DeSmith in net too.
Ducks vs Sharks:
Nothing here. Ducks SHOULD take it. That Sharks slight surgence though has me waiting to see if it was just a blip and they're going to play competitive, or if they're going to go back to playing like Tampa did last night.
I'll probably personally play the Rangesr -1.5 and the Ducks in reg, but they're a bit off from advising.
Follow @BetNHL
BetNHL.ca » Tonights Tips »