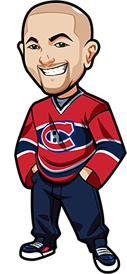 Written by Graeme on Saturday, November 13th, 2021
Follow @BetNHL
Well last night was going pretty decent, then it all went to hell in a handbasket, as they say.
Got what we wanted with Vladar in net for Flames. xG wise it went as expected with Leafs racking up a 4.44xG. Unfortunately Vladar stepped up big time for the Flames and the was the reason they earned the point. It happens. The goalie is the one person in hockey who can completely affect a game and after so many years I am used to it. No biggie.
We had Oilers/Sabres to go over 5.5 goals. After a frustrating 1st period with multiple disallowed goals, we had a nice 5 goal period as the game was going as expected. Then nothing. Nada. Oilers with 14 shots in that period and just couldn't get it in.
Then we had Canes in regulation. Up 1-0 and looking great. They scored but yet another disallowed goal. Flyers came out crazy in the third and were able to get the W.
It happens – just sucks when it happens three times in one night. I always look back at bets – win or loss – with 20/20 hindsight. I even look back at the games I didn't bet on. Just to see if there was anything I missed, anything to learn from etc.
Those are three picks where, looking back, I'm still happy with them. I think the only thing I can say is there wasn't a lot of data on Vladar this season – but that is still pretty results orientated. At 2.01 odds I'd say at worst it was a razor thin +EV bet.
Busy Saturday let's get to it – any picks I make I will put at the top:
Lightning vs Panthers:
Panthers come in struggling. Tampa coming in off that Canes loss and will want to avenge the last game against the Panthers when they got destroyed.
I dunno – it's hard to back against the 6-0-1 Bobrovsky who I assume is in net. He has been exceptional this season. Best save percentage, GAA, HD Saves/60 out of any goalie who has played 5 or more games.
I have a strong, strong feeling that Tampa get the win tonight. But goalies can change a game as I said above, and when you look at the metrics it's hard to bet against Bob.
I'll probably still bet Tampa but I can't advise it. Just on the off chance though – Lightning win if Bobrovsky is not in net.
Canada: 1.91 Odds at BetOnline..
USA: -109 Odds at BetOnline..
Everyone Else: 1.91 Odds at BetOnline..
(Odds correct as of 2021/11/13 10:12:38 AM EST but are subject to change.)
Predators vs Coyotes:
Nashville are one of those teams long time readers will know I hate. Just seem to always let me down. Now against a terrible Coyotes team on a B2B? Preds haven't been great at home. Would have to take -1.5 for it to have any value. If you bet a team against Coyotes -1.5 all season, it'd be 10-4 for wins.
Coyotes do have Galchenyuk playing which is nice for them. Capobianco looked solid too.
I gotta take Preds here and if they fail to cover well hey I get to hate the Preds quite early this season. Coyotes are batting 50% for conceding a goal with an empty net while the Preds are battling 50% for scoring against an empty net. Both of those help make this a pick.
Preds -1.5
Canada: 1.88 Odds at Bet365 (Americans: We recommend http://www.bovada.lv.
USA: -115 Odds at BetOnline..
Everyone Else: 1.86 Odds at BetOnline..
(Odds correct as of 2021/11/13 10:12:38 AM EST but are subject to change.)
Stars vs Flyers:
At 2.30 odds, it's like the bookies are begging us to go with Philly here. Just one of those where when I look at it, it feels like a letdown spot for them and Stars get that big regulation win. I do like that price though. Stars goaltending has been poor. Flyers came out their last back to back unscathed.
This is one I need to mull over more. Would be curious on everyone elses thoughts on it – feel free to post in the comments as I'd love to hear your opnions.
Devils vs Bruins:
Probably some slight value on Devils at about 2.30. Bruins have had a rough ride on the road but you have to remember they've lost to all quality teams. The one team they beat was the Sabres. This is the first real average power rankings team they're facing so far, and it's a surging Devils. I'm really curious about this matchup. I do think value is on the Devils, but I also like the Bruins to get the W. No bet.
Senators vs Penguins:
Two teams with serious roster issues. Pens not won in regulation in 3 weeks. Sens brutal. Skipping.
And can I just say man – such depressing shit. Was really hoping COVID would be less of an issue this season. Guess I was dreaming but man so much of this so early in the season. Sucks.
Red Wings vs Canadiens:
Odds seem to be dead on for this one. Wings about 1.80 – that's what I would price them at too.
Jets vs Kings:
Where the hell was that Jets performance against the Sharks last time out? That's why I bet them that one game. So frustrating. Kings come in on a run. It's pretty impressive with 7 in a row. Not exactly a murderer's row of teams though. I mean yeah they beat the Leafs but we know the Leafs sometimes don't show up.
Mental they are doing this without Walker and Doughty.
This is one where I set out with the intent of hopefully convincing myself to back the Kings tonight. But I just can't do it. Is there value there? Yes I think so. But I don't have the confidence in them.
Sabres vs Leafs:
Probably goes over but as the line is 6, and both teams were involved in over losses for us last night? I'll pass. I will say Woll has been terrible in the AHL. But I've seen many make the mistake of seeing a goaltender like this in and instantly betting overs etc. I wish I had the stats but I honestly think it'd be a losing bet over the years. Anyway like I said likely goes over but after last nights results I'm good to avoid it.
Jackets vs Rangers:
Figured that would be a close one last night. Rangers blitzed Jackets last time out. I think Rangers get the win but at 1.71 it's not worth the play. Jackets ride tough enough that in regulation I am not confident about, even if they are on a B2B.
Hurricanes vs Blues:
I'd like to say Canes bounce back tonight but at those odds, on a B2B, Lyon projected? No play.
Avs vs Sharks:
Avs have the good news that Byram is likely playing. Sharks have a ton of COVID returning players. I'm good to skip this one. I expect Avs will win but odds are too low.
Kraken vs Wild:
Kraken are starting to become a homer team for the most part. This is where they beta the Wild 4-1 just a couple weeks ago. Wild have had some better performances since then but just aren't a team I can back with any confidence at the moment.
Knights vs Canucks:
Canucks coming off that 7-1 loss to the Avs. Knights of course without Stone, Pacioretty and Karlsson yet still bloody winning.
Knights remind me of their first season. Putting in these results yet it was so hard to back them as they were just a new team! The bookies never gave them any respect either.
Discounting that Avs loss, all the Canucks losses lately during this run have een tight results.
I dunno I feel like I should be backing the Knights here but I just can't pull the trigger.
Follow @BetNHL
BetNHL.ca » Tonights Tips »