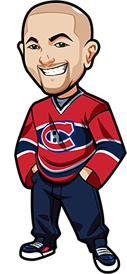 Written by Graeme on Monday, November 13th, 2023
Follow @BetNHL
No plays yesterday.
What a result that was for the Stars. The Wild shipped 3 past Oettinger but that didn't matter. It was a great day for the city of Dallas, with drubbings of both Minnesota and the New York Giants.
Rangers struggled to beat the Blue Jackets and sneaked the shootout win. Canucks got back on the winning track against the Habs, and the Ducks got the business done against San Jose.
Two games today and I know right from the off-set here that I won't have any tips.
But hey we'll look at the metrics anyway.
Oilers vs Islanders:
Woodcroft was fired yesterday, and they hired Knoblauch probably to keep McDavid happy. Not touching a game with a coaching change as "new manager effect" is a real thing. Actually it might not be. I remember reading a couple of studies years ago related to soccer where it is a fallacy. But either way, I'm happy to pass.
And I'd advise not betting on the Oilers just due to the new coach change – unless you go through the data for the last 5 years of new coaches, and actually see if there is anything to it.
By the metrics – Islanders have some scary bad CA & FA. Same with xGA. Oilers should create a TON of chances – and it's all about rolling the dice on whether they convert them or not.
Personally I think they will. Coaching change might give some fresh perspective, this game looks ripe for a solid Oilers victory.
Kraken vs Avalanche:
Avs are not a team I'm considering betting involving anything for awhile.
Hockey is funny in that they are favourites despite their horrendous record coming into this. 2 wins in their last 7. shutout 3 times. A loss to the Kraken. All 3 road games lost.
Thing is I don't see any value on the Kraken anyway. Really poor offensive metrics, and while the Avs have laked a lot of goals, their defensive metrics are generally solid. It's a bit of a surprise Seattle got 4 past them.
Super easy pass.
Follow @BetNHL
BetNHL.ca » Tonights Tips »