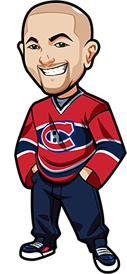 Written by Graeme on Monday, November 14th, 2022
Follow @BetNHL
A 1-0 day yesterday, and one of those days that I like. Where you can look back at each game and just say "Yep, that makes sense". As opposed to some of those days where it's a whole bunch of nonsensical results in a row that have you questioning everything about this great sport.
Bruins got the result, as expected. Stars also returned to form albeit against a very poor team. Will be interesting seeing if that continues.
Sharks got the big upset win which if you read my write-up, wasn't a surprise for me. It wasn't a sure thing or anything but that one I wasn't surprised at at all.
We've got a nice and quiet Monday with 4 games. Let's see what we got:
Senators vs Islanders:
Senators slight underdogs here. At first glance I'd make them slight favourites actually. Let's see what the metrics say. Slightly better in Corsi & Fenwick. Both have same goal rate last 10, both scoring around what they should. Both concede a good amount of chances but the difference maker between them both is goaltending for the Islanders.
Both score and concede a decent rate of high danger goals. So this is looking like an over play to me. It just depends how Sens are scoring against teams with a similar GA/60 or similar goaltending. Islanders actually have the 2nd best GA/60 last 10 in 5 vs 5, with the Bruins only slightly better. In all strengths they dtop to 4th which is still really good.
But Sens were able to get the goals past the Knights, Devils and to a lesser degree the Wild. And hell 4 past Hart.
Yeah I think the over is fine here. Over 6 Goals incl OT/SO
Ontario: 1.83 Odds at Bet365 (Americans: We recommend http://www.bovada.lv
Canada: 1.84 Odds at BetOnline.
USA: -118 Odds at BetOnline.
Everyone Else: 1.84 Odds at BetOnline.
(Odds correct as of 2022/11/14 9:07:14 AM EST but are subject to change.)
Blackhawks vs Hurricanes:
I'm completely fine avoiding the Canes right now. They're not really worth a write-up. By the metrics, this really shouldn't be a contest but the Canes continue to underperform big time.
I could see this one going under but the way the Canes advanced metrics and Hawks defensive metrics are – would take a brave man to bet on that. That isn't even a "I won't advise it but I'll probably bet it" play for me.
Flames vs Kings:
Fine skipping this game. Not sure if that Flames win over the Jets will be a TSN Turning Point for them or not. Metrics have this one fairly close. Actually probably a slight edge to the Kings. Their defensive metrics are actually fairly solid. So are their offensive metrics.
Man – this actually doesnt look like a bad spot for the Kings. I like them here. Like I said the only concern is if that win for the Flames turns things around for them.
Games like this I always hate because I'm basically trying to go out of my way to find reasons not to bet the Kings. Like by the numbers I feel they are a good play. I guess a rocky road record is out there as well. I'll pass, but I think the Kings are probably an okay play today.
Avalanche vs Blues:
Are the Avs back? 4 solid wins in a row, lot of goals scored. Now going against a Blues team who have strung two wins together including an impressive one over the Knights.
The in regulation odds for the Avs are quite nice. By the metrics they are overperforming at the moment in regards to goals scored and conceded. Blues are underperforming drastically in both categories.
That can always be a concern in that the ship gets righted at a spot like this.
You just worry about buying into the Avs too soon. Their offensive metrics against the Canes were brutally low.
Looking at the Blues metrics – their offensive metrics have generally been sound in most games. Defense is where they have stepped it up a bit more lately. Goaltending was the biggest factor in that Flyers game.
Yeah I think Colorado are a play. High danger chances and their ability to score goals. They had the 5th highest xGF against the Canes so far this season which is nice to see as the Canes are still solid in the advanced metrics.
Avs in Regulation if Georgiev in net
Ontario: 1.83 Odds at Bet365 (Americans: We recommend http://www.bovada.lv
Canada: 1.83 Odds at Bet365 (Americans: We recommend http://www.bovada.lv
USA: -120 Odds at BetOnline.
Everyone Else: 1.83 Odds at Bet365 (Americans: We recommend http://www.bovada.lv
(Odds correct as of 2022/11/14 9:07:14 AM EST but are subject to change.)
(Odds correct as of 2022/11/14 9:07:14 AM EST but are subject to change.)
Follow @BetNHL
BetNHL.ca » Tonights Tips »