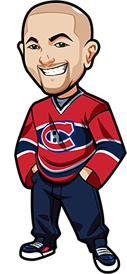 Written by Graeme on Friday, November 15th, 2019
Follow @BetNHL
A 1-0 night with the NHL Tips last night.
We had Lightning vs Rangers to go over 6.5 and that one was won before the 2nd period was up. The game didn't go exactly as expected. What we saw in the 3rd period was more what I expected. But hell I'm not going to be complaining about a nice and easy win like that.
It was a pretty darn good night of hockey. Only two underdogs won in the Stars and Jets. Despite that I'm sure a few surprising results like the Coyotes losing.
I was happy to see that Stars win. I mentioned yesterday I wanted to take them very badly and if Khudobin wasn't in net I would have. They're fast becoming a team I can slot into the "reliable" column which is nice to see.
It's a quieter night in the NHL with 5 games and then tomorrow we have – frick – 15 freaking games. Looks like an early bedtime for me as it is going to take me all morning analyzing those.
I have a gut feeling that the Bruins win today. Just one of those things. The stats don't really back it especially with the Leafs home record (only 2 losses in regulation) but man it just feels like that spot the Bruins can take it.
How about you? Who do you think wins there?
[poll id="40″]
Penguins without Crosby. Not for the first time but I think they're a big question mark right now anyway.
Blues vs Jackets – like OT there. We tend never to tip them due to the high variance though.
I was extremely close to taking the Sens today. To the point I even started writing it up. But I can't. I just think the average odds which are 2.25 isn't enough for them in this spot. A big thing is the Flyers point streak too. Teams treat that shit with importance. If they go down 2-0 or something that is going to give them drive to keep going to at least take it to OT. Can't do it. If they were 2.40 it'd be a bet.
Capitals vs Canadiens Betting Tips:
This is such an interesting game but at the end of the day I have to look at it and say "Washington are better".
Capitals are absolutely crushing it this season. You have to go back to October 14th for their last regulation loss (and only one at home). They've put in the performances at home really well with wins over the Knights, Flames and Sabres back when people were like "Man the Sabres might be a playoff contender".
Montreal of course are playing very well too. On the road however they've been a bit weak and I look back to that 4-1 loss to the Stars on November 2nd as how I feel this game kind of goes.
I'm not counting out the Habs completely though so even though I want to advise 1u, we'll play it small as OT is a strong possibility here.
0.5u on Caps in Regulation
Canada: 2.05 Odds at Bet365 (Americans: We recommend http://www.bovada.lv.
USA: Best Odds at Bovada.
Everyone Else: 2.05 Odds at Bet365 (Americans: We recommend http://www.bovada.lv.
(Odds correct as of 2019/11/15 8:02:52 AM EST but are subject to change.)
Non-NHL Betting Tips:
Written by Graeme
(All below systems are based mainly on mathematics and statistics with very little human input and are deemed experimental. Use at your own risk.)
Swedish Hockey League Betting Tips (3-2, +1.21u): 0.5u on HV 71 incl OT/SO 1.80. 0.5u on Lulea -1.5 & Orebro incl OT/SO 2.51. System thinks Orebro winning in reg is value too fwiw.
OHL Betting Tips (9-6, +0.14u): 0.5u on Sarnia Sting in reg 1.72. 0.5u on Hamilton incl OT/SO 1.93. 0.5u on Guelph in reg 1.60. 0.5u on London in reg 1.82.
AHL Betting Tips (6-4, +2.6u): 0.5u on Manitoba Moose in reg 2.10.
Where To Bet the Non-NHL Leagues:
Canadians: Bodog and 888 Sports.
Americans: Bovada.
Everyone Else: 888 Sports.
Follow @BetNHL
BetNHL.ca » Tonights Tips »