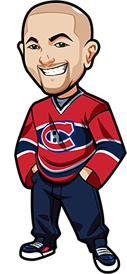 Written by Graeme on Friday, November 16th, 2018
Follow @BetNHL
It was a 2-2 night last night and a completely breakeven night.
The night started off great as we went up 2-0 early. Rangers versus Islanders was one of the easiest overs we'll ever hit. It was a 12 goal thriller that the Islanders took 7-5. We also won with Lightning beating Penguins in a tight one but luckily Tampas ability saw them take the game 4-3, having to come from behind.
We had the Over 6 in Montreal vs Calgary but that ended up being a disappointing 5 goal game. Price made 43 saves. 40+ saves was the story of the night as we lost with the Predators versus Coyotes when Kuemper made 45 saves. Predators have now lost three in a row. Subban and Arvidsson are out for the Preds for the next little while.
With such a close night, it's a nice opportunity to remind you how important line shopping is. When we post the odds below each tip and list the sportsbook with those odds we don't do that just for fun – we're doing it to save you the work of looking and so that you get the best line possible.
Take our two wins yesterday for example. They amounted to a +1.50 profit and we lost 1.50 on the two losing bets. However looking around yesterday William Hill for example had the Rangers/Islanders over at 1.91 and the Tampa win at 2.00. If you had bet both of those there, it would have been a losing night for you. Not much, but it all adds up over the course of a season.
On top of that it's nice to have multiple accounts at various sportsbooks as you get to clear the deposit bonuses at them and then occasionally they'll e-mail you with new bonuses.
For the record we only do odds comparison with online sportsbooks that we personally use and trust. Here is a list of the sportsbooks we currently do odds comparison with:
Take the time to sign up for at least one additional sportsbook today. Get working on that bonus, and start being a smart sports better by line shopping. And I know country restrictions can be brutal for some of the European countries – if there's sportsbooks you're wondering about signing up at but aren't sure be sure to shoot me an e-mail at betnhl.ca@gmail.com and I can give you my opinion. There are other sportsbooks I trust but I don't list above simply because odds wise they never beat the books above. We also get a small kickback from the sportsbooks from referring people which we put into our beer & wings kitty for when we meet up. So if you want to just show your support by signing up, that's also much appreciated!
Winter has officially hit Kingston as we got 10-15cm of snow overnight and it's still coming down. That of course means over 30 freaking car accidents overnight as apparently no-one has ever driven in snow before. Blows my mind.
Also means we have a snow day so I have two kids who are aching to go out in the snow and shovel it and build snowmen. Oh who am I kidding – I have two kids who are pumped for the day off so they can play more bloody Fortnite.
Let's get to the tips:
Dallas Stars vs Boston Bruins Betting Tips:
Yeah so whenever the Stars are playing at home you're most likely going to see a betting tip from us. Sometimes it will be Stars to win, other times where we think the opposition will be a big match for them we'll go with the over.
In this instance I'm going with Stars to win.
They're one of those teams I really like at home. They fight hard and never give up. They're playing a Bruins team with quite a few injuries and who don't have the depth. Radulov has had a game back to get used to things again and they've adjusted to having him in the team. That's why we skipped Stars vs Jackets btw – felt that him being back would maybe change the flow a bit and wanted to give them that one game adjustment.
You never know when the Bruins are going to show up. With a top line like they have sometimes they just get flowing and they could do so here. But similar to the Tampa bet last night – just seems the one that makes sense is the Dallas Stars to win incl OT/SO: 1u.
Canada: 2.00 Odds at Sports Interaction.
USA: -105 Odds at GT Bets..
Everyone Else: 1.95 Odds at Bet365 (Americans: We recommend http://www.bovada.lv.
(Odds correct as of 2018/11/16 7:54:06 AM EST but are subject to change.)
Leafs vs Ducks Betting Tips:
Honestly Ducks are such a hard team to bet against as you never know when things are going to work out for them. They're missing cam Fowler though and starting a couple of rookie D tonight. Hopefully that means the Leafs are out for blood.
Leafs are on the 2nd leg of a B2B. Third time this season. Other ones saw that 13 goal thriller with the Hawks and a very weak performance against the Bruins when they lost 5-1.
Just feel Leafs have the ability to take this game and are the better team. They theoretically should be able to break down the Ducks.
Leafs to win incl OT/SO: 0.5u
Canada: 1.83 Odds at Bet365 (Americans: We recommend http://www.bovada.lv.
USA: -120 Odds at Bovada.
Everyone Else: 1.83 Odds at Bet365 (Americans: We recommend http://www.bovada.lv.
(Odds correct as of 2018/11/16 7:54:06 AM EST but are subject to change.)
OHL / WHL / AHL / KHL / Czech Extraliga Betting Tips:
(All below systems are based mainly on mathematics and statistics with very little human input and are deemed experimental. )
WHL Betting Tips (17-6, +6.03u): 0.5u on Prince Albert Raiders in reg at 1.80 odds.
AHL Betting Tips (5-7, -1.02u): 0.5u on Grand Rapids Griffins in reg 0.5u odds. 0.5u on Syracuse Crunch incl OT/SO at 2.50 odds.
Where To Bet the Non-NHL Leagues:
Canadians: Bodog and 888 Sports.
Americans: Bovada.
Everyone Else: 888 Sports.
Follow @BetNHL
BetNHL.ca » Tonights Tips »