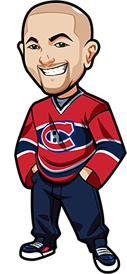 Written by Graeme on Saturday, November 16th, 2019
Follow @BetNHL
Well an 0-1 night with the tips, although my 3 leans came in so hopefully some of you backed those and made some profit.
First the loss. Drouin got taken out big time by Ovi, and I was thinking "Hey that sucks for the Habs but that will help us for the bet". NOPE. That riled up the Habs and they just went to town on the Capitals and gave us a loss.
I said I had a gut feeling the Bruins would take the win over the Leafs. 71% of you agreed with me on that and we were correct as the Bruins got the big win. Leafs are in serious trouble. They are not looking good at all and you can feel the trigger finger getting itchy on Babcock.
I also called Blues/Jackets going to OT which was about 4.00 odds so hopefully some of you got on that. And I said I wanted to take the Sens – had even started writing up the tip – but just couldn't advise it.
It's definitely frustrating for me when there are 4 picks I like, but only 1 checks enough boxes to make a pick. And that one loses while the others win. But that's the way it is sometimes. We try to make sure each pick check enough boxes to make the tips. And a gut play, high variance play, and a pick with so many contrasting statistics just weren't enough.
A -2.5u night in OHL/AHL didn't help either. Man OHL last night was almost like bizarro world. Except the Frontenacs lost. So you know the entire world hasn't went crazy.
Anyhoo – extremely busy day today. 15 games. Got my coffee and baileys on the go. Actually the liquor store was giving away a free bag of coffee with baileys yesterday so hey even better.
I'm also drinking it out of an obscenely Canadian Tim Hortons mug: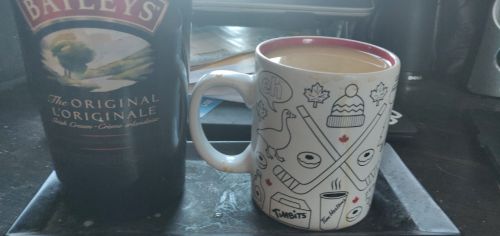 If we sweep tonight I'm declaring this my lucky mug and drinking out of it every morning.
(And if we pop a goose egg I'm going to chuck it at the first passing car)
I think what makes today tough is that there are actually quite a lot of potential picks, and it's hard to whittle them down. Coyotes to win I liked. They've got a better chance at winning than a coinflip. Kings I kinda like although would need a much better price. Pens/Leafs Under I liked too. Panthers/Rangers over was another one. Oh and Preds/Hawks over. Heck even the Wings/Sharks over. I like Caps to bounce back too and think there
In the "I wrote a tip up then removed it" category, I wrote up the Stars to beat the Oilers then decided to remove that. On further analysis, I just don't think it's the right price. Just not enough value. But Oilers are all "everything is clicking" and that's usually when they blow it.
We'll run the big game in the East through the poll:
[poll id="41″]
One of those nights where by default I'm just going to do 0.5u picks. Mentally it helps me as with so many games on the board and so much to look at, it's possible I miss something or don't analyze something as much as I'd like.
BetOnline. killing it today with the best odds for every pick. They accept everyone I beleive including Americans.
Wild vs Hurricanes Betting Tips:
Canes are a dangerous, dangerous team. However they just can't bring it on the road this season. They just seem to struggle there.
Minnesota are such a hard team to backthis season but we're starting to see some solid performances from them.
They're still leaky as all hell which is a concern with a team as offensively orientated as the Hurricanes.
This one is pretty much based on the home/road split for these teams.
Wild to win incl OT/SO – 0.5u
2.07 or +107 odds available at BetOnline..
Islanders vs Flyers Betting Tips:
Islanders are one of those teams that despite their performances, are just not getting any respect from the sportsbooks. I said that when I saw their odds against the Leafs. They did seem to slack off after scoring that empty netter which made the game look closer than it was, but they have 100% proven themselves this season.
Capitals dropping points last night will hopefully spur them on as they look to lead the Metro.
My major concern is their road form and performances. They haven't had a lot of road games this season and that's been beneficial to them. Big test for them coming up with 10 road games in their next 13. Yikes.
Flyers just had their nice little point streak killed by the Sens. That game would wear on them physically and that loss will hopefully wear on them mentally and take out some of their fight.
Anyway big test coming up for the Islanders. We'll see if they pass and the bookies reevaluate them but for now I'm happy to take them. Interestingly for Corsi fans, Islanders have 2nd worst CF/60 in the league and Flyers have 2nd best CA/60 rates.
0.5u on Islanders to win incl OT/SO
1.90 or -110 odds available at BetOnline..
(Odds correct as of 2019/11/16 9:54:21 AM EST but are subject to change.)
Lightning vs Jets Betting Tips:
Jets are one of those teams I'm not sold on yet despite their little run to start November. I did enjoy seeing their performance in Florida however.
Tampa look like they used that European trip to turn their season around. Granted it's just three games but they look revitalized.
Honestly I'm very conflicted on this one. I went into it looking to back Lightning -1.5 but I've decided to go with the Over instead. Lightning still concede the goals. Recent games between the two are usually barnburners. Jets showing what they got in that Panthers game is a good indication we have a high scoring game.
0.5u on Over 6.5 Goals incl OT/SO
1.95 or -105 odds available at BetOnline..
(Odds correct as of 2019/11/16 9:54:21 AM EST but are subject to change.)
Capitals vs Bruins Betting Tips:
I'm backing the Caps to bounce back. I felt they were typically lazy Caps last night. I wouldn't blame Samsonov there. The defence just didn't show up.
I went back a few seasons analyzing how the Caps do after a winning streak or points run is ongoing and the results were inconclusive. Coinflip as to whether they will bounce back or lose again I feel.
Maybe they were focused on this game and decided not to take the Bruins seriously. They've had some good results in Boston as you have to go back to 2014 the last time the Bruins beat the Caps here.
The price for this one is excellent all things considered. Excellent value in my opinion. I've been a big believer in Boston this season, but I can't ignore the value this one represents.
I wrote this pick at about 6am when the Caps were 2.25. They've dropped to 2.15 at most sportsbooks and 2.20 at 5D but I still believe value there.
0.5u on Capitals incl OT/SO
2.20 or +120 odds available at BetOnline.. Well worth getting an account there and they accept pretty much every country including Americans.
(Odds correct as of 2019/11/16 9:54:21 AM EST but are subject to change.)
Non-NHL Betting Tips:
Written by Graeme
(All below systems are based mainly on mathematics and statistics with very little human input and are deemed experimental. Use at your own risk.)
Czech Extraliga Betting Tips (4-4, -0.05u): 0.5u HC Ocelari Trinec incl OT/SO 1.80.
OHL Betting Tips (9-10, -1.86u): 0.5u on Windsor Spitfires in reg 1.95.
WHL Betting Tips (4-4, +0.09u): 1u Kamloops in reg 1.70.
AHL Betting Tips (6-5, +2.1u): 0.5u Marles in reg 1.85. 0.5u Rochester incl OT/SO 1.88.
Where To Bet the Non-NHL Leagues:
Canadians: Bodog and 888 Sports.
Americans: Bovada.
Everyone Else: 888 Sports.
Follow @BetNHL
BetNHL.ca » Tonights Tips »