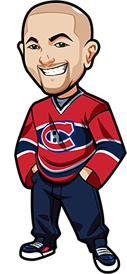 Written by Graeme on Friday, November 17th, 2017
Follow @BetNHL
It was quite the night in hockey last night with some really good games. Unfortunately not a good night for the bets.
We had the Leafs/Devils to go over but Andersen stepped up big in that one. He pulled off 42 saves for an incredible shutout. I'd noticed that he was getting a bit better lately but that was an absolutely incredible performance from him.
Tampa thumped the Stars 6-1. I wanted to take that one but Lightnings home results going into that one weren't the most impressive thing in the world.
Habs lost to the Coyotes 5-4. What a brutal result that was for Montreal. So many teams like that in the NHL right now – they have the quality but they're just not performing. Capitals are another one. They got absolutely thumped by the Avs and Grubauer goes 0-5-1 after that beating.
The Knights pulled off a big surprise with a 5-2 victory over the Canucks to put the Knights at 11-6-1. They looked like that team that went on that big home winning streak – where they just outwork their opponents and keep going for the full 60. I'd said yesterday that was a simple enough pick to make. Really the only negative with picks like that is if the team you're backing share your confidence. It seemed like that with the Canucks who looked like they thought if they just showed up, that was good enough.
Well deserved victory for the Vegas Knights there.
2 games tonight. The Rangers hope to bounce back as they visit the Blue Jackets, and the Red Wings hope to get a winning run going as they take on the Buffalo Sabres.
I like the Jackets to beat the Rangers tonight but not enough to back them. Their offense has been absolutely brutal lately. I do think after that loss the Rangers will struggle to get a run going again but I'm not going to back the Jackets in the hope that their offense has something going. I'd rather wait till they actually do.
I'm also going to avoid the Sabres/Wings. Wings missing a fair amount of players is concerning. I'd like to back them as their offense looks to be playing good but I'm not convinced. After the Sabres beat them a couple of weeks ago, that'll give Buffalo more confidence here and they could take the win.
Be sure to check the comments as there'll be lots of people in there with betting thoughts on todays games.
OHL / WHL / AHL / KHL Betting Tips:
(All below systems are based mainly on mathematics and statistics with very little human input and are deemed experimental. )
OHL Betting Tips (9-5, +2.46u): Mississauga Steelheads in regulation at 1.95 odds.
AHL Betting Tips (3-5, -2.05u): Wilkes-barre in reg 1.90.
OHL, WHL & AHL & KHL Betting:
Canadians: Bodog and 888 Sports.
Americans: Bovada.
Everyone Else: 888 Sports.
Follow @BetNHL
BetNHL.ca » Tonights Tips »