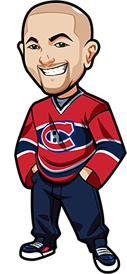 Written by Graeme on Monday, November 19th, 2018
Follow @BetNHL
It was a 1-1 night yesterday for a profit as our 1u play won, but our 0.5u play didn't.
The win was with the over in the Knights/Oilers game and man – don't get me started on the Oilers. Happy the bet won but I find they're actually making me rage these days. Why I didn't wake up to the news that Chiraelli was fired I do not know.
It's funny as I used to visit Edmonton a lot and I have a lot of Oilers fans who are friends. These are guys that would take pride in their loyalty to the team and now so many of them are at the quitting point. A few of them even want Oilers to trade McDavid when they can as they just don't deserve him. Says a lot.
McLellan should go too. Watched his post match interview where he talks about how the team is struggling to deal with changes in momentum. Man – if only you could call a time out to deal with something like that. So many issues with that team. Talbot should have been pulled so fast the guy had zero confidence. Ugh what a mess of a team. So frustrating seeing someone of McDavids ability just wasting away but hey maybe it'll toughen him up for the future.
We lost with the Minnesota Wild vs Chicago Blackhawks over. Hawks won 3-1 with Crawford pulling up 39 saves in that one.
Let's get on with tonights tips with a busy Monday:
Sabres vs Penguins Betting Tips:
You've got to think the Sabres come into this one fired up and ready to rock. They're on a real roll at the moment with five straight wins. Penguins defense is like a sieve at the moment.
Sabres are just coming off a great win over the Wild while on a B2B. This team is impressive.
Penguins offense is coming to life too. I think they're starting to realize they really can't rely on their defense or goalie and if they're going to win they need to score the goals. They seem to be doing better without Crosby too ha.
So you've got the Pens offense rolling, and a Sabres team who will be fired up, playing great hockey and with no better opportunity to take the scalp of a legendary team.
Gotta go with 1u on Over 6 Goals incl OT/SO.
Canada: 1.90 Odds at Bet365.
USA: -115 Odds at Bovada.
Everyone Else: 1.90 Odds at Bet365.
(Odds correct as of 2018/11/19 1:53:48 PM EST but are subject to change.)
Jackets vs Leafs Betting Tips:
Honestly this is one of those games that jumps out at me as a real 50/50 battle so I'll pop on the perceived value in the Blue Jackets.
Bobrovsky is in net and he is slowly becoming a goalie we can count on again with save percentages of .964, .971, .963 and .968 in his last four games with only one goal against. Gotta respect the hell out of that.
Anyway yeah a real coinflip of a game and I'll do a value play on the side with the better odds. Leafs nothing special at home this year so home/away split isn't a concern.
0.5u on Jackets to win incl OT/SO if Bobrovsky is in net
Canada: 2.20 Odds at Bovada.
Everyone Else: 2.15 Odds at Bet365.
(Odds correct as of 2018/11/19 1:53:48 PM EST but are subject to change.)
Panthers vs Senators Betting Tips:
Panthers 5 game winning streak is over and they have two losses going into this one. Their offense is still producing however and Hoffman is going to have to be fired up playing here.
Sens are doing what they do – conceding a bunch of goals for the most part and then trying to outscore their opponent. They've got an excellent home record and I think this should be a good battle. Sens will be extra motivated after the drubbing they got in Florida.
Let's hope for a good one tonight.
1u on Over 6 Goals incl OT/SO.
Canada: 1.87 Odds at Sports Interaction.
USA: -120 Odds at Bovada.
Everyone Else: 1.80 Odds at Bet365.
(Odds correct as of 2018/11/19 1:53:48 PM EST but are subject to change.)
OHL / WHL / AHL / KHL / Czech Extraliga Betting Tips:
(All below systems are based mainly on mathematics and statistics with very little human input and are deemed experimental. )
Czech Extraliga Betting Tips (5-2, +1.54u): 1u on BK Mlada Boleslav incl OT/SO at 1.85 odds. 0.5u on PSG Berani Zlin incl OT/SO at 1.90 odds.
Where To Bet the Non-NHL Leagues:
Canadians: Bodog and 888 Sports.
Americans: Bovada.
Everyone Else: 888 Sports.
Follow @BetNHL
BetNHL.ca » Tonights Tips » November 19th, 2018 NHL Betting Tips