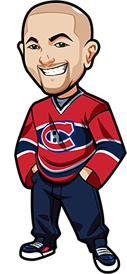 Written by Graeme on Saturday, November 19th, 2022
Follow @BetNHL
Ah it feels good to be writing here today.
Gallbladder surgery went good. In and out in 2.5 hours with 4 nice incisions. Fair bit of pain but given some nice painkillers to help with that!
Here's the one issue – I have to be careful with the way I position my body etc and I'm not allowed to sit at my desk for 1-2 weeks. I physically can't anyway as my belly button incision just kills me if I do that.
So my usual setup when working on NHL tips is two 27" monitors which I am using every single pixel of. A TV above them that I use to go back and review previous games etc while I write, and then a tablet in front of me that I use for quick access to blogs etc.
Instead of that, I'm sitting on my bed on a mountain of pillows, using my MacBook to Remote Desktop into my Windows machine just to be able to access all of my database and advanced metric software etc. It's such a massive pain not having everything on one screen at once, and having to scroll down or across just to look at everything.
Not exactly ideal. My wife was asking if I couldn't just take the day off and it's like – sure I could. I did that last week when I was in agony and you guys understood. But the thing is – I don't want to! I love doing this. I love going through all the games, studying the data. And I find it fun being able to make picks primarily based off advanced metrics etc or even just seeing a trend in the metrics pay off and so on.
However I will go light with write-ups here just because bloody hell there is a billion games today. I won't bother with linking each sports books best odds either. Just a little thing that becomes such a bigger hassle when in current circumstances.
With that – let's look at todays slate.
Senators vs Devils:
By the time I've got everything set up and started writing tips – this game kicks off in an hour. So I'll pass on it as I don't even think tips will be posted by then. Devils should win based on their superior goaltending and defence.
Panthers vs Flames:
Flames issue right now is goalscoring. Panthers issue over last 10 is they are expected to concede 3.23 a game and are doing just that. Flames conceding more due to goaltending.
Could see this being like a 4-3 type game. Not feeling good about the over though just due to Flames offense.
Leafs vs Sabres:
Would have to be Leafs -1.5 and they don't cover that enough right now. Looking at advanced metrics last 10 hate it even more. Despite their recent results, I wouldn't be surprised if Buffalo win this one honestly. But their goaltending situation I can't back that.
Bruins vs Blackhawks:
Lol Bruins -1.5 isn't even at our 1.70 threshold. Pass.
Capitals vs Avalanche:
Would actually lean Caps here but they are conceding while Avs are scoring. Not a good combo,
Blue Jackets vs Red Wings:
Would like Jackets here if not for their horrific defensive metrics. Not sure if Wings can take full advantage but it's so tough to back a team with defensive data like that.
Canadiens vs Flyers:
Went into this one hoping to back the Habs but the data turned me off. Both teams are so similar it's crazy. Only diff is Habs scoring more but also conceding more. Habs over performing offensively Flyers under performing. Bah yeah no play here.
Jets vs Penguins:
Both teams quite similar. Jets edge is on goaltending right now overall. They're not my favourite team to back but if the goaltending holds up then Jets to win incl OT/SO. Best odds are 2.09 at BetOnline..
Blues vs Ducks:
Despite their recent resurgence I don't think Blues should be as big a favourite. They do have momentum – but I think this will end up being a tough game for them.
Yeah call me crazy – but after having spent time looking through this one – I am going with Ducks win incl OT/SO. Just from everything I have looked at – I'd be kicking myself if I didn't go with them here. You may wish to go for something safer like Ducks +1.5 or Ducks or Draw or even assume my pain meds are affecting me and skip it. But yeah I like Anaheim here.
Best odds are 2.80 at 888
Wild vs Hurricanes:
Fine skipping anything involving Canes right now.
Stars vs Islanders:
Both teams scoring well. Goaltending and defence ain't great. Both have solid SCGF/60. Corsi and Fenwick aren't anything amazing offensively Over 5.5 incl OT/SO looks fine which is 1.80 at 888. Other books have over 6 but I'd go with the over 5.5.
Predators vs Lightning:
Skipping.
Kraken vs Kings:
Eh tough one to call.
Oilers vs Knights:
Happy to pass on this one. If Skinner isn't in net I'd go with Knights I think but if he is eh just not sure.
Sharks vs Rangers:
Yeah you can't bet anything involving the Rangers right now.
Follow @BetNHL
BetNHL.ca » Tonights Tips »