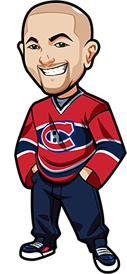 Written by Graeme on Sunday, November 1st, 2015
Follow @BetNHL
Hey guys,
Scott's going to be taking a few days off from writing tips to recover from the slump he was on.
Losses happen in betting and it sucks. When you're on a bad run, the best thing is to usually always take some time off. It allows you to re-evaluate and return fresh.
I've been betting sports for years and I've both experienced it and seen it. When you're on a losing streak, it becomes personal. You're determined to get back on a winning run but you're not seeing things clearly. It was something I learned early on in sports betting.
Hell – a couple of years ago I did WNBA Tips and sold them. Halfway through the season I started slumping and I realized I wasn't confident going into games anymore. I ultimately stopped tips for the ENTIRE season and refunded everyone their money.
If you're ever on a bad run always take a break. Sports betting will still be there when you come back!
Today is a quiet night in hockey with just 5 games. I prefer that to be honest – allows me to analyze the games more thoroughly. 5-6 games is the sweet spot. I find with 4 games or less it's easy to over analyze.
Grand Salami: Under 26.5
For those unaware – the Grand Salami is a bet that can be made where you bet on the total goals in that day. I am taking Under 26.5 goals. This means after you add up all the goals today once the final game is done – if it is 26 or less, winner winner chicken dinner.
One thing that stands out to me a lot today is just how easily a lot of these games could go under. Nothing convincing enough to have me tip it individually though.
You can bet the Grand Salami at Bovada for Americans and http://www.Bet365.com for everyone else..
Ducks vs Predators Betting Tips:
Always wary betting against the Ducks because well – it's the Ducks. No matter how bad they have been playing – it's the Ducks!
But I mean COME ON. The Ducks are the favourites here. What? Predators already destroyed them this season and the Ducks are playing absolutely horrific.
I don't care if the Ducks end up winning 16-0 scoring on every shot. The right play here is to take the Predators. And I'm aware that Rinne probably isn't starting.
I've looked at this one from 10 different angles, and other than "Ducks being back at home" there's just no other reason to not bet the Nashville Predators here.
You can get them for 2.10 odds at http://www.5Dimes.eu for Americans(Need to register to see lines) and and http://www.Bet365.com for everyone else..
Follow @BetNHL
BetNHL.ca » Tonights Tips »