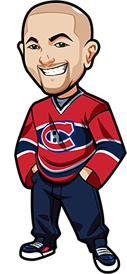 Written by Graeme on Thursday, November 1st, 2018
Follow @BetNHL
A quiet night in the NHL tonight with only 13 games on the board. C'mon NHL you have 31 teams how come 5 of them get a night off?
Seriously 13 games. Ugh. And of course an early one too because why not. Despite this early in the season it's still hard to feel confident with a lot of bets. I really want to back the Caps tonight for example but after the professional performance the Habs put in against the Bruins following their Sabres loss, and the fighting performance against the Pens after their Kings loss….they might be a bounce back team.
Well let's get right into it because we've got an early game with the Panthers vs Jets in Finland and we have a betting tip for it!
Panthers vs Jets Betting Tips:
Big game and part of the 2018 NHL Global Series. it's taking place in Finland and both Patrik Laine and Aleksander Barkov will be up for this game.
There's obviously concerns about fatigue in terms of the flight etc. But first let's look at this one just from general form.
Panthers haven't won in regulation yet this season but boy have they fought hard. 5 overtime results and their 3 losses have seen them score at least 2 goals a game. They work hard and to be honest I think it's only a matter of time before they start rolling. They've got a PDO of 95.21 which is an indicator that they should start getting going soon.
Jets are on the bounce back where they always fight hard. It's a massive game for Laine who has been a bit of a disappointment to start the season. Offensively they are really weird – look at their goals per period of 9, 7 and then 18 in the third. It's like they are struggling with motivation early on.
I think they're motivated here. Scotts got concerns about this one due to it being in Finland and that the travel would throw their already hectic schedules off and I get that – so we'll go with a small play of 0.5u on Over 6 Goals incl OT/SO.
Canada: 1.89 Odds at BetOnline..
USA: -115 Odds at Bovada.
Everyone Else: 1.89 Odds at BetOnline..
(Odds correct as of 2018/11/01 11:57:50 AM EST but are subject to change.)
Devils vs Red Wings Betting Tips:
Just as the New Jersey Devils looked like they were getting back on track, they were crushed by the Tampa Bay Lightning 8-3.
Devils are one of those teams that look like to win consistently, they need every single player playing their "A" game every night. And unfortunately that's not something that can happen for an entire season. It's interesting that they had two solid performances against hard workers such as the Panthers and Predators and I wonder if they respond to that.
Red Wings are a hard team to back. I mean not to be harsh but this is probably the least talented team in the NHL.
However they're home underdogs, and I think if their goaltending can just pick up a tad they could get some solid results going. A large portion of their poor run looked to be mentality however they've shook that and coming in confident after two wins in a row.
One of those wins was a massive one for me – the 5-3 win over the Jackets. Not that the Jackets are outstanding or anything but they were 3-0 up and lost that lead yet still won. That's a big sign of their mentality at the moment and it's the type of thing that carries them if they go down.
But it IS the Red Wings so 0.5u on Red Wings incl OT/SO.
Canada: 2.35 Odds at Bovada.
Everyone Else: 2.30 Odds at Bet365 (Americans: We recommend http://www.bovada.lv.
(Odds correct as of 2018/11/01 11:57:50 AM EST but are subject to change.)
Jackets vs Sharks Betting Tips:
We've got two top 10 offenses going at it here with both of them ranking top 5 in terms of shots on goal. Both defenses are generally struggling with the goaltenders not exactly rocking iat the moment.
We'll go with 1u on over 6 incl OT/SO.
Canada: 1.91 Odds at Sports Interaction + $20 Free Money Line Bet.
USA: -110 Odds at Bovada.
Everyone Else: 1.90 Odds at BetOnline...
(Odds correct as of 2018/11/01 11:57:50 AM EST but are subject to change.)
OHL / WHL / AHL / KHL / Czech Extraliga Betting Tips:
(All below systems are based mainly on mathematics and statistics with very little human input and are deemed experimental. )
Czech Extraliga Betting Tips (4-2, +1.09u): 1u on Bili Tygri Lberec -1.5.
AHL Betting Tips (4-1, +1.13u): I don't do over/unders with this model usually however it really loves the over in this one tonight for those interested. It thinks Reign vs Stars can hit 9 goals. Looking at the odds I'd say over 7.5 at 3.00 would be worth a small bet. Not an official tip!
Where To Bet the Non-NHL Leagues:
Canadians: Bodog and 888 Sports.
Americans: Bovada.
Everyone Else: 888 Sports.
Follow @BetNHL
BetNHL.ca » Tonights Tips » November 1st, 2018 NHL Betting Tips