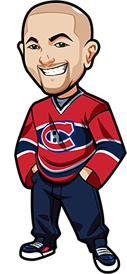 Written by Graeme on Friday, November 1st, 2019
Follow @BetNHL
Preds gonna Pred!
Do you know that prior to last night, if you combine all the metrics the Predators on home ice were the best third period team in the NHL? And it wasn't even close. Even on the road they weren't bad. But at home? Ooof – forget about it.
So there they were. 4-1 in the 3rd period. At home. And they completely and utterly blow it.
The kicker for me was when Flames tied it 4-4 and Preds then took the lead ONLY TO BLOW IT AGAIN. Amazing.
What a way to end the month. I'd like to remind people that we STARTED the month in similar fashion – with the Devils blowing a 4 goal lead against the Jets.
Hockey is a hell of a sport.
What's funny about that is our legitimate only reason for not doing a maximum unit play yesterday was "It's the Predators". That's it. I mentioned it in the comments but we always take a look at both sides, try and pick apart our tip etc when finalizing it and determiing what unit sizing to go with. And the only reason not to was the Predators have been in this spot many, many times before and have let us down.
Amazing stuff. That Preds game surprised many of you too. Only 22% voted it was going to be the highest scoring game of the night. I wonder what that percentage would have been if we knew prior that the Habs/Knights was going to hit 9 goals.
It wasn't too bad though. This was my Halloween costume last night: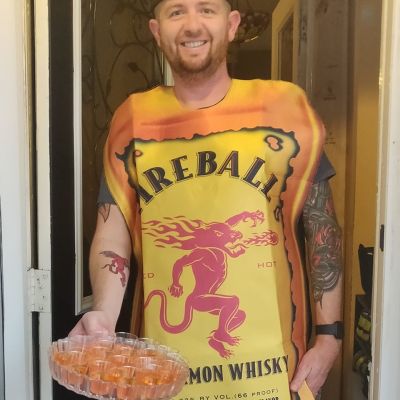 And I made about 100 fireball jello shots to hand out to parents(or any kids whose costumes I just really liked). However we ended up having a brutal storm(Montreal postponed Halloween until Saturday due to it) and we only had about 10 groups of people at the house compared to the usual 150-200. So for every goal the Flames scored in the 3rd, I treated myself to about 3 jello shots each time.
So we end October on a down note but it was still a 23-17 month for +3.76u so we'll take it. The non-NHL systems also went +1.15u for the month. Let's hope we can get November off to a good start. Busy couple of days with 8 games tonight then 14 tomorrow.
Can YOU pull the trigger on the Sabres today? Boy I want to. At around 2.55-2.60 odds there HAS to be value there. Just can't do it. Let's see what you guys and gals think:
[poll id="27″]
Speaking of underdogs, Red Wings are huge dogs against the Canes. They've managed to go two games in a row without losing in regulation. Wonder if they can keep it going.
Stars are in a good spot today to win but 2.20 seems just about right for that one.
Are the Canucks seriously 8-1-1 over their last 10? That's the type of thing that just sneaks up on me. I knew they were putting in the performances but didn't realize it was that good. Tricky game against the Ducks though. Ducks can step up the goaltending/defense and can be unbeatable but this season they're proving they have the offense to carry them too. Coinflip odds seem right there.
Islanders are probably a good play today but I'm still wary of Tampa.
Flyers vs Devils Betting Tips:
Philly are coming off that 7-1 thumping by the Penguins. Their offense was doing great prior to that one. I actually said when looking at that game that I wasn't sure about the Penguins offense being able to bring it but I thought Philly might. Disappointing outing but can't write off the Philly offense after one game.
Now they're on a winnable game in New Jersey. Devils are an odd bunch to start the season but their offense is generally getting it together and they're scoring the goals.
Both teams are brutal on defense. Both teams have to see this as a winnable game and go for it.
Devils are still trying to win over their own fans, while Philly will be looking to bounce back after that humiliating loss. If we look at games they have lost where they only score a goal (Stars and Flames) the next games they came out and put on a good offensive display.
I'm right in the middle on whether it's an 0.5u play or a 1u play but I think it's just enough to go with the 1u.
1u on Over 6.5 Goals incl OT/SO
Canada: 1.96 Odds at BetOnline..
USA: -105 Odds at BetOnline..
Everyone Else: 1.96 Odds at BetOnline..
(Odds correct as of 2019/11/01 10:57:20 AM EST but are subject to change.)
Non-NHL Betting Tips:
Written by Graeme
(All below systems are based mainly on mathematics and statistics with very little human input and are deemed experimental. Use at your own risk.)
WHL Betting Tips (2-3, -0.65u): 1u Edmonton Oil Kings in reg. 1.90.
Where To Bet the Non-NHL Leagues:
Canadians: Bodog and 888 Sports.
Americans: Bovada.
Everyone Else: 888 Sports.
Follow @BetNHL
BetNHL.ca » Tonights Tips »