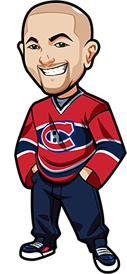 Written by Graeme on Tuesday, November 20th, 2018
Follow @BetNHL
It was another profitable night as we went 2-1 with both 1u plays winning, and our 0.5u play losing.
The loss was with the Blue Jackets against the Leafs. I said yesterday I felt that was a true coin flip of a game and I was happy to take the better odds. Game went as expected and either team could have picked up the win. Blue Jackets had a 2-0 lead but lost it and the Leafs scored 3 goals including an empty netter to win.
Andersen pulled off some incredible saves in that one to keep the Leafs in it although it was disappointing that the Jackets blew that lead. Either way based on the odds and the way the game went I feel it was the right bet, even if it didn't work out this time.
In saying that – man, I don't know if I can bet against the Leafs again. There's just so much talent in that team and they look so scary. Imagine if they had Matthews and Nylander? I aged about 10 years watching that game.
Luckily we didn't have to stress too much over the winning two bets as we had the overs and they came in nice and easy. We had over 6 in the Sabres/Pens game and the Sabres won 5-4 in OT as Pittsburghs struggles continue. Great fighting performance from Buffalo as they have now won 6 in a row. Love to see that.
Panthers/Sens had the game I expected. had Over 6 in that one and Panthers won 7-5 in a 12 goal thriller. Kind of kicking myself for not advising 2u on either of those ones now. Welcome to sports betting – where even when you win, you're not happy.
Kings pulled off a big win over the Blues whose troubles continue and the Jets got off to a hot start against the Canucks and won 6-3.
Fun scheduling in the NHL due to Thanksgiving. We have 1 game tonight, 14 games on Wednesday then 15 freaking games on Friday. Crazy.
Sharks vs Oilers Betting Tips:
I hate betting on games involving the Edmonton Oilers. I really do. They're such a frustrating team to watch yet at times they look like the team they should be. It wasn't that long ago that they had an 11 goal thriller with the Penguins before thumping the Caps 4-1 and the Preds 5-3 – the latter on the road.
But they're a very mismanaged team, and you can tell this is getting to the players. Mark Savard called it yesterday – the players have tuned out the coach. Hell McLellan looks like he's tuned himself out in some of those post match interviews recently.
Sharks are a team still battling for that consistency. They have the potential but can't seem to string a long streak together. However I liked that Blues game and I think the Leafs loss will have them a bit more focused. They're 2nd in shots on goal in the league and if they can keep that up against the Oilers goaltending they should have no troubles here.
My only main concerns about this one are like I said the Sharks lack of consistency as well as the shots on goal stats. The Sharks are scoring a good chunk more than their xGF/60 suggests and when you look at their losses, the majority of the teams are the ones who are Top 15 in shots on goal allowed (Oilers are 8th).
But with the team in disarray I've just got to back against the Oilers here. However I'm going to be cautious. And if they lose? Well don't worry Scott is handling tips tomorrow so I won't be here with an angry rant. I'll probably be out at Best Buy replacing the TV that I've superkicked.
0.5u on Sharks to win in regulation
Hours after posting this tip, McLellan was fired. No clue how that will affect the team but advice would be sit this one out.
Canada: 1.89 Odds at Casumo
USA: -120 Odds at Bovada.
Everyone Else: 1.89 Odds at Casumo
(Odds correct as of 2018/11/20 8:25:31 AM EST but are subject to change.)
OHL / WHL / AHL / KHL / Czech Extraliga Betting Tips:
(All below systems are based mainly on mathematics and statistics with very little human input and are deemed experimental. )
AHL Betting Tips (7-8, -0.32u): 0.5u on Bakersfield Condors in regulation 1.82 odds.
Where To Bet the Non-NHL Leagues:
Canadians: Bodog and 888 Sports.
Americans: Bovada.
Everyone Else: 888 Sports.
Follow @BetNHL
BetNHL.ca » Tonights Tips »