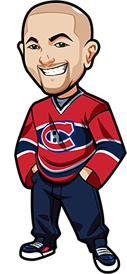 Written by Graeme on Saturday, November 20th, 2021
Follow @BetNHL
A 1-0 night last night as the Avs and Kraken delivered a nice and easy over. We were at the push point by the end of the 2nd period thanks to the Avs machine, and it went over in the third.
Canucks also got the win. I said yesterday it was a great spot for the Canucks – just hard to advise on them. Especially at coin-flip odds. If they were above 2.00 I would have been much more likely to back them.
It's Saturday. The usual busy day. No early game as it was scheduled to be the Rangers vs Senators. A couple of games at 4pm EST though.
Let's get right into it:
Lightning vs Devils:
The Devils come into this one off that 4-1 pounding by the Panthers. Tampa come in having not lost a game in regulation since October 25th. That was the 5-1 drubbing by the Buffalo Sabres and it looks to have been a game-changing point for Tampa.
If we were to back Tampa, it would have to be in regulation. 4 of their last 6 have went to OT which is a concern. But when you look at the teams – Panthers, Canes, Leafs – that's not too shabby.
Blackwood projected for the Devils. He actually isn't too shabby this year with a 2-1-1 record. He had that killer game against the Islanders.
This is a tough one where I like Lightning in regulation, but not fully convinced. They did show a lot of fight in that Flyers game though. I'm going to take it – but I don't love it.
Lightning in Regulation if Vasilevskiy is in net
Canada: 1.80 Odds at Sports Interaction (SIA).
USA: -140 Odds at Bovada.
Everyone Else: 1.75 Odds at Casumo
(Odds correct as of 2021/11/20 8:46:52 AM EST but are subject to change.)
Panthers vs Wild:
Pathers come in off that great win over the Devils. They are rocking it right now. Wild come in off that big 7-2 win over the Stars. Their road form is a bit hit and miss but their recent results are great.
The thing is similar to the above – look at the teams they have beaten during that time. Stars, Kraken, Coyotes in there. Pens & Sens they had to go to OT with.
Panthers have a perfect record at home and that sort of thing should drive them on. While the OT odds are good enough to bet – I feel this is a good little spot to go for that extra value. I'm a bit concerned that it is saying Spencer Knight is projected though.
Panthers in Regulation if Bobrovsky starts
Canada: 2.08 Odds at Casumo
USA: +100 Odds at BetOnline.
Everyone Else: 2.08 Odds at Casumo
(Odds correct as of 2021/11/20 8:46:52 AM EST but are subject to change.)
Coyotes vs Red Wings:
Coyotes are slight underdogs at 2.25 odds. Based on their past two performances that almost seems like a play. Being at home has to be a nice factor for them too with so many road games.
Actually the more I look at it – I like the over here. I think we see a similar game like the Coyotes had versus the Kraken. Do I even need to write about how these teams are defensively? Yeah happy to go Over 5.5 Goals.
Canada: 2.02 Odds at Casumo
USA: +101 Odds at GT Bets..
Everyone Else: 2.02 Odds at Casumo
(Odds correct as of 2021/11/20 8:46:52 AM EST but are subject to change.)
Kings vs Hurricanes:
Hurricanes are just too heavily favoured for my liking here. The LA Kings have been very good this month results wise. Granted it's not like they have been playing a murderer's row of teams. But I would have to take Canes in regulation and don't feel confident enough about it – even if they do have the best road record in the NHL.
One of those games where the "trap spot" radar went up. I could see Kings forcing this one to OT. Canes last couple of games have been tight too.
Flyers vs Bruins:
I'm surprised that the Bruins are such heavy favourites here against Philly. The Flyers beat them 6-3 last time out. Flyers would feel hard done by after that Tampa game. Ryan Ellis being out is tough though.
Bruins haven't played since last Sunday which could see them start slow. They'll have Mike Reilly back.
This is one where I do feel there is some value in the Flyers but just not enough to back. Feels like a coinflip though.
Canadiens vs Predators:
The Habs are a joke right now – let's be honest. Preds aren't doing too badly. I do wonder if we see a big bounce-back game from the Habs though. When you get drubbed 6-0 you are itching to get back out there.
Preds meanwhile haven't played since Tuesday when they lost to the Leafs. They're about 1.83 to win and will also be motivated.
I think the Preds have a good chance of winning here but I do fear a big performance from the Habs after that Penguins game and just not confident enough in Nashville.
Leafs vs Penguins:
I have went back and forth on this one all morning and have decided to stay away. I like Leafs in regulation if Campbell is in net, but the more I looked into it I just found a few warning signs. The Pens defensive metrics are all pretty solid and we haven't seen too much of the Leafs against teams with similar metrics.
In the games they have played – other than the Bruins 5-2 win, Leafs have been stifled offensively. Pens, of course, Hurricanes, Flames as well.
I do expect Leafs are out for blood here after that 7-1 thumping earlier in the season, but I can't quite bring myself to back it. This will be a good test though for them.
Stars vs Blues:
No bet in this one. Dallas just not a team one can back confidently. Blues seem very relieved and motivated to keep the wins going now. One of those games I could easily argue for either side to win.
Oilers vs Blackhawks:
I expect Oilers to take the win here but they are stumbling somewhat lately. I'd say the Blackhawks are rejuvenated but let's look at who they are beating. Anyway, this should be an easy win for the Oilers, but also seems like a vintage Oilers spot where they eat the loss.
Mentality wise the Oilers seem really happy to be at home after that road trip and looking to build on it. Good spot for the Oilers and if slightly better odds I'd consider it more. One I will likely regret not backing.
Knights vs Jackets:
I like the Knights here but it would have to be in regulation. They lost more freaking players to COVID this week though and it's just so bloody risky. What a team they have been this season though and major props to them. With all the COVID crap I'll pass.
Sharks vs Capitals:
Capitals may have Oshie and Dowd back tonight which is good. Sharks got thumped by the Blues 4-1 and man Reimer still made 44 saves there. Could have been worse.
Caps are one of those teams though that historically have disappointed us in spots like this. It's just one of those games on the Caps schedule where I look at it and alarms go off.
Caps are about 1.80 and looking at it, I think that seems dead on. I'm close to taking the Caps here but going to say no bet.
Follow @BetNHL
BetNHL.ca » Tonights Tips »