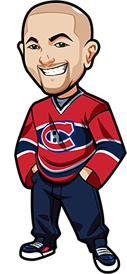 Written by Graeme on Thursday, November 21st, 2019
Follow @BetNHL
Quite the day in hockey yesterday. In the NHL results, there was two heavy favourites and both lost. Habs lost to the Sens in OT, and the Capitals were crushed by the Rangers.
And Mike Babcock was let go!
It was coming. We all knew it. That team was just a disaster this season and it's going to be interesting to see what an impact Babcock had on the team in a negative way. Was nice to see him mention Reilly on his exit interview however. A lot of the players were apparently happy Babcock left.
A quick heads up that I'm going to be in Boston over the weekend. Attending the Bruins/Wild game on Saturday and the Pats/Cowboys game on Sunday. I'm hoping this won't have an impact on the tips but my hotel is on the same block as about 30 pubs so who knows. At worst I'll just throw up a post allowing you guys to post in the comments with picks.
Busy night in hockey. Leafs look to end their 6 game skid with Babcock gone as they head to Arizona. What say you?
[poll id="46″]
Feel like Panthers/Ducks might go under tonight but not enough to back it. Was very close to Penguins/Islanders over tonight. I liked that one the other night. However the home/road split may be enough to change things. Also very close on Lightning/Hawk over but that's based more on theory than hard data and just feels like a gamble.
Bruins vs Sabres Betting Tips:
Hard not to take the Bruins here. Negatives? Eichel is obviously trying to spur the Sabres on. They're doing some line changes. They generally raise their game against Boston.
But that's really it. Boston had their little slump and then they bounced back with a huge win over the Devils. Now they're at home where they usually put on excellent performances. After that slump I can't see them underrestimating the Sabres. Bergeron will hopefully be back tonight.
Two winnable games at home before the big rivalry game in Montreal. I like this spot for Boston.
1u on the Bruins in Regulation
Canada: 1.75 Odds at 888 Sports.
USA: -137 Odds at BetOnline..
Everyone Else: 1.75 Odds at 888 Sports.
(Odds correct as of 2019/11/21 11:14:53 AM EST but are subject to change.)
Blues vs Flames Betting Tips:
Blues are one of those teams that I've stayed away from for the most part since Tarasenko has been out. I keep waiting for them to sink but they keep on rolling. Just as looked like the wheels were coming off the bus they turn around and beat the Tampa Bay Lightning in regulation 3-1.
However it should be noted just how close the games are. In saying that they are playing a terrible, terrible Calgary Flames team. Flames just look like they're playing the season out at the moment. I felt that Avs game was a game where they could turn it around.
I'm still wary of the Blues, especially with their inability to wrap up games in regulation. So we'll go with the smaller unit. This is primarily based on just how piss poor the Flames are right now. Hamonic & Brodie not with them right now either.
0.5u on Blues in Regulation
Canada: 2.10 Odds at Sports Interaction (SIA) + free $20 bet.
USA: +110 Odds at BetOnline..
Everyone Else: 2.10 Odds at BetOnline..
(Odds correct as of 2019/11/21 11:14:53 AM EST but are subject to change.)
Blue Jackets vs Red Wings Betting Tips:
Well the Red Wings had a nice little run going. They lost at home to Ottawa however and now travel to Columbus.
The Jackets have been performing a bit better. Not great and I should warn you that only once this season have they won two games in regulation in a row. However I've got to think that Habs win was a big momentum booster for them. First time this season they have won by more than 1 goal. Isn't that crazy?
I'm tempted to do 1u here but with a lot of this based on both teams prior game, we'll go small.
0.5u on Jackets in Regulation
Canada: 1.97 Odds at Sports Interaction (SIA) + free $20 bet.
USA: -108 Odds at BetOnline..
Everyone Else: 1.92 Odds at BetOnline..
(Odds correct as of 2019/11/21 11:14:53 AM EST but are subject to change.)
Follow @BetNHL
BetNHL.ca » Tonights Tips »