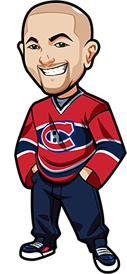 Written by Graeme on Sunday, November 21st, 2021
Follow @BetNHL
Hi guys,
A 1-2 night last night. Tampa were up 3-1 going into the third period, and it could have been more if not for heroics from Blackwood. Then they completely blew it with Vas letting in two easy peasy goals. Very frustrating loss.
We had Panthers to beat the Wild in regulation and that was a wild ride which came in. We had the Wings vs Coyotes game to go over unfortunately that one ended up being a dud.
Very interesting to see the Leafs unable to break down the Penguins. That was one I mentioned yesterday – I would have been all over Leafs in regulation, but when I looked up the advanced metrics and noticed their performances against top 10 defenses – I decided to stay away.
Look what happens – they get shut out. Interesting.
Habs got that big bounce back game over the Preds. While it came in, I'm glad I didn't take Hurricanes in reg as my god that would have been a nerve-wracking one. Kings came to play there.
A rather busy Sunday – albeit with a few back to backs that always turns me off. Let's see what we got:
Bruins vs Flames:
Right off the bat, I want to say "easy skip" because both are on B2B. But that Flames line intrigues me. 2.50 odds approx? Let's look further. Bruins coming in on a nice run, last three games all 5-2. I still don't know how to really rate the Bruins yet this season. They're definitely not in the top tier at this point.
Flames come in on a nice run but it's a long road trip. Bruins I wondered if they would be rusty after their rest. They weren't – but then on a B2B that could catch up with them. Bruins going with Swayman in net. Flames have Vladar projected who is 3-0-1 and would relish stifling the Bruins.
Bruins are one of the top defensive teams by the advanced metrics on 5 vs 5. How do the Flames perform against teams with similar? They haven't played too many but early in the season did well scoring against the Caps and Penguins.
I'm really not seeing anything to put me off this Flames price. I'd give the Bruins a slight edge here but not as heavily favoured as they are. Now in saying that – there are spots like this where I don't get the price and then the Bruins come out and thump them 5-0 and I just tip my hat to the Vegas sportsbooks. So that's always a possibility.
The one issue I see is Flames aren't a big overtime performer just in case it goes there. I do think there is value here and going to go with Flames Draw No Bet. Interestingly, Casumo have that one at the same odds as incl OT/SO.
Canada: 2.50 Odds at Casumo
USA: Don't see it anywhere. Could do Flames or Draw for -125 at Bovada.
Everyone Else: 2.50 Odds at Casumo
(Odds correct as of 2021/11/21 11:13:03 AM EST but are subject to change.)
Islanders vs Leafs:
This seems like a great spot for the Leafs to get back on track. Islanders aren't ranked in th ose defensive advanced metrics that have caused issues for the Leafs. But Islanders coming off the loss, and at home for just the second time this season? Eh. With the back to backs thrown in as well – I'll skip this one. On paper Leafs should take this though but with Woll confirmed – no thanks.
Canucks vs Blackhawks:
Hawks on a B2B after getting dominated by the Oilers last night to cut their run. Canucks coming off that great 3-2 victory over the Jets. Canucks just too heavily favoured for my liking here. Neither team really appeals for me at the odds.
Kraken vs Capitals:
Impressive Washington victory last night. Two shutouts in a row is very impressive. Bookies have this one at practically a coinflip. Vanecek projected to be in net.
I mean I analyzed the Kraken the other night with that Avs game. I can't see them shutting out the Caps. Advanced metric defensive wise – Kraken were able to get the goals against the Wild a couple of times. Haven't faced too many more in that category recently.
Just from watching hockey for so many years – this seems like that type of game where everyone piles on the Caps at this price, Kraken burst out to a 3-0 lead, then the Caps wake up and take it to the wire.
I'm happy to go with Over 5.5 goals here. I debated whether to make it goalie dependent and I'm a bit concerned as we have a lack of data on Kraken against top defensive teams outside of the Wild – but I think it's worth it.
Canada: -1.84 Odds at BetOnline..
USA: -118 Odds at BetOnline..
Everyone Else: 1.84 Odds at BetOnline..
(Odds correct as of 2021/11/21 11:13:03 AM EST but are subject to change.)
Kings vs Coyotes:
Happy to skip this one. Kings I expect should get back on the winning track but would have to take the handicap. They haven't been great for covering that.
Lightning vs Wild:
I'd like to think Tampa bounce back strong here. But the Wild are no pushover, have bounced back strong three times in recent weeks, and man after you bet a team and they have a collapse like yesterday? Plus Brian Elliott projected? Bleh. Although it won't surprise me if after his disaster yesterday, Vas gets to play to try to redeem himself. Anyway no bet but if Vas is in net I think I'd throw something on Lightning in reg.
Rangers vs Sabres:
Rangers looking to bounce back after that Leafs loss. Lot of tight games for them lately. Sabres are hit and miss at the moment. I'd have to take Rangers -1.5 and there's not enough jumping out at me to back that.
Follow @BetNHL
BetNHL.ca » Tonights Tips »