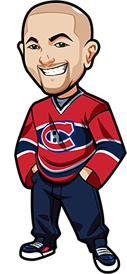 Written by Graeme on Friday, November 22nd, 2019
Follow @BetNHL
A nice 3-0 night last night.
I probably should have advised more on the Blues honestly. However despite their recent performances and results they are a team that I just find hard to back with Tarasenko out. Even though they have clearly proven themselves I still hold myself back for whatever reason.
That was the easiest game of the night as the Blues thumped the Flames 5-0.
The other two were a tad tighter. We had the Bruins in regulation and that one went all the way to the end with the Bruins winning 3-2. Props to Rask who pulled off some amazing saves to get us the win there.
We also had the Blue Jackets to beat the Red Wings. It was nice in one regard to see Detroit fight so much although I am glad that they weren't able to get the win obviously.
Stars continue to prove they are legit with a 5-3 win at home to the Jets. The Leafs minus Babcock go to 10-10-4 with a win. Oilers got destroyed by the Kings 5-1. Fun night of hockey overall.
For Friday, November 22nd there are two games as the Pittsburgh Penguins host the New Jersey Devils and the Ottawa Senators host the New York Rangers.
Unfortunately no tips tonight but I will post my thoughts on both games:
Penguins vs Devils: An interesting one where I think you've just got to hvae a flutter on OT here Pens have had a crazy amount of games go to OT lately and a lot of tight games. Devils also had a lot of tight games. Devils beat Penguins at home back on the 15th. Devils have been quite hard to figure out. If you can call this game you're a better man than I.
Rangers vs Senators: My gut says to take the Rangers here but man I can't see why. Rangers got thumped by the Sens at home earlier this month. Ottawa are actually playing really well right now to the point you have to start reassessing them. They are beating some hard working teams. Rangers themselves are no pushover. Could be a hard fought game where the over comes into play but Ottawa have been pretty tight defensively at home. No play for me.
What say you?
[poll id="47″]
I'll be back tomorrow hopefully with tips. As I said I'm off to Boston today so we'll just have to see how it goes. Wrote this on the train which was super fun as the block everything related to gambling, so I had to remote to my home desktop and do it all from there while dealing with crappy wifi. All that for no picks ha.
Non-NHL Betting Tips:
Written by Graeme
(All below systems are based mainly on mathematics and statistics with very little human input and are deemed experimental. Use at your own risk.)
For WHL system likes Medicine Hat and Kamloops today but there are no odds up yet. I'll try and post in comments later if there is tips for that but no promises.
AHL Betting Tips (9-6, +3.02u): 1u San Antonio Rampage 1.82 in reg.
Where To Bet the Non-NHL Leagues:
Canadians: Bodog and 888 Sports.
Americans: Bovada.
Everyone Else: 888 Sports.
Follow @BetNHL
BetNHL.ca » Tonights Tips »