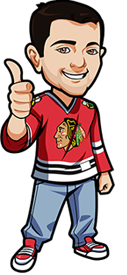 Written by Scott on Tuesday, November 22nd, 2022
Follow @BetNHL
10 games yesterday and we had 2 tips and went 1-1.
The win was the Blues to beat the Ducks in regulation which they did 3-1.  This was a close game which was tied 1-1 until Faulk scored with less than 5 minutes left in the 3rd to break the tie.  They added an empty net at the end for the win.
I had the Leafs to win in regulation against the Islanders.   The Leafs had a 2-1 lead late in the 3rd but Bailey tied it for the Isles to send the game to overtime which gave me the loss.  In the end it was the Isles winning 3-2.
The Bruins beat the Lightning 5-3 for their 7th win in a row and Bergeron picked up his 1000th career point on an assist.
The Devils won their 13th straight, which ties a franchise record, when they beat the Oilers 5-2.
The Flames beat the Flyers 5-2, the Jets beat the Canes 4-3 in OT and the Avalanche beat the Stars 3-2 in a shootout with Makar scoring which was his 200th career point.  He's the fastest defenceman to reach this milestone beating Orr, Leetch, Coffey and any other to play the game.  Impressive.
A slow night with only 2 games.  Both games have odds that are close so it's a tricky night.
Sabres vs Canadiens
The Sabres started the season going 4-1 and looked like they were ready to turn the corner.  Well that seems like a hazy memory as they have gone 3-10 since and have lost their last 8 straight.
The Habs have gone 5-4-1 over their last 10 and are at home where they have gone 6-4 this year.
The Sabres have been outscored 38-19 over their 8 game losing skid.  After this game the games are going to get tougher for them with the Blues, Devils, Lightning and Wings up next to end the month.
They played once already this season and it was the Canadiens winning 3-2.  I have no confidence in either team at the moment so I have to skip this game.
Rangers vs Kings
Both teams are 5-3-2 over their last 10.
The Kings have won their last 5 home games so they have the edge.  But it's the Rangers and you never know how they will play.  They will beat the Wings 8-2 and follow that up with a 2-1 loss to the Preds.  The Rangers have won 4 of their last 6 road games though.
Another game that's tough to predict.  I looked at the over for the game as it's set at 6 but the Rangers last 4 games stayed under and the Kings last 3 did too.  I have nothing I like here.
Follow @BetNHL
BetNHL.ca » Tonights Tips »